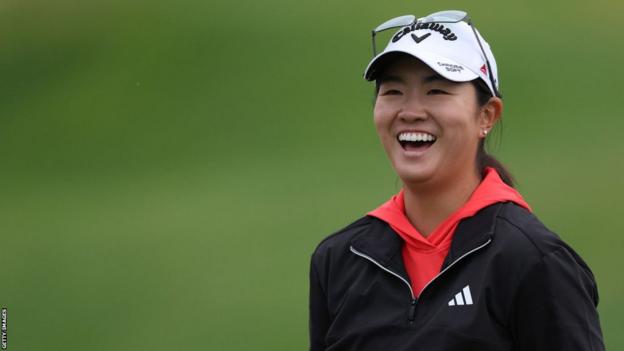 –
9
R Zhang (US), Kupcho (US) –
8
H Ryu (Kor)
-7
A Ashok (Ind), A Furue (Jpn), E Ji (Kor)
-6
Y Saso (Phl), A Buhai (RSA), L Maguire (Ire)
-5
D Kang (US), S Kyriacou (Aus), A Thitikul (Tha)
Full leaderboard
Rose Zhang won the Mizuho Americas Open on her LPGA Tour debut just nine days after turning professional.
American Zhang, 20, beat Jennifer Kupcho, 26, on the second hole of a play-off to become the first woman to win on her first LPGA appearance since Beverly Hanson in 1951.
The pair went to a play-off after both finished nine under par at Liberty National in New Jersey.
"What is happening? I just can't believe it," said Zhang.
"To turn pro and come out here [and win], it's just been amazing. I've enjoyed the journey.
"I really got a bit of everything, got a taste of the pressure, got a taste of the wind and I tried to stay composed as always. I knew that golf was just a grind and you really had to dig deep."
Zhang had the chance to win on the 18th hole in regulation but made a bogey to shoot a closing two-over 74 and join compatriot Kupcho, who carded a nine-under 69, on nine under.
But she secured victory on the second hole of the play-off after Kupcho missed her putt.
Zhang spent a record 141 weeks at the top of the women's amateur rankings, surpassing the previous best of 135 set by Ireland's Leona Maguire.
She also won the Augusta National Women's Amateur in April and her second straight NCAA individual title in May.