Novak Djokovic may be looking to take Carlos Alcaraz's US Open title in Flushing Meadows next week, but there are tennis inspirations fighting it out in Birmingham this week.
The World Blind Sports Championships – the largest high-level international event for athletes with visual impairment – are being hosted in the UK for the first time, with more than 1200 competitors from 70 nations taking part in a range of sports.
As we looked ahead to tennis hitting the city that never sleeps in New York, Sky Sports joined Team GB and Ireland as they prepared for the Blind and Visually Impaired (VI) World Championships to find out more about the sport and the people representing their nation.
How does VI and blind tennis work?
"We have two versions of the game – a blind aspect of the tennis and a partially sighted aspect – sometimes known as the VI", Team GB coach Frankie Rohan told Sky Sports.
"Visually impaired tennis is on a spectrum. When anybody wants to get involved in a visually impaired sport, they need to gain a sight classification that distinguishes what element of tennis they'll be playing."
For those wishing to play tennis at a recreational level, the classification is done by British Blind Sport
"The categorisations go from B1 to B5, with B5 having the most vision to B1, who have no vision at all – if you are categorised as B1, you will play blind tennis, and anything from two to five, you will play partially sighted tennis."
The spectrum of VI/Blind Tennis
B1 – Players play in the service box with up to three bounces, wearing an eye shade.
B2 – Players play on three-quarters of a court with up to three bounces.
B3 – Players play on three-quarters of a court with up to two bounces.
B4 – Players play on three-quarters of a court with up to two bounces.
B5 – Players play on three-quarters of a court with just one bounce.
What is special about the ball?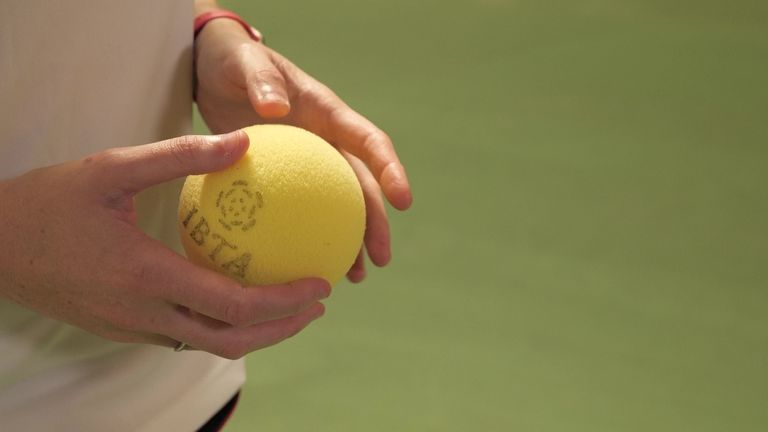 "The ball is an audible ball – it's made of more of a sponge-type material, it's a bit bigger, it's bright yellow and it's got a rattle inside, so every hit of the ball and bounce is audible," Rohan explains.
"Those who are visually impaired are relying a lot less on vision, so we have to track it by the noise."
How is the court set out?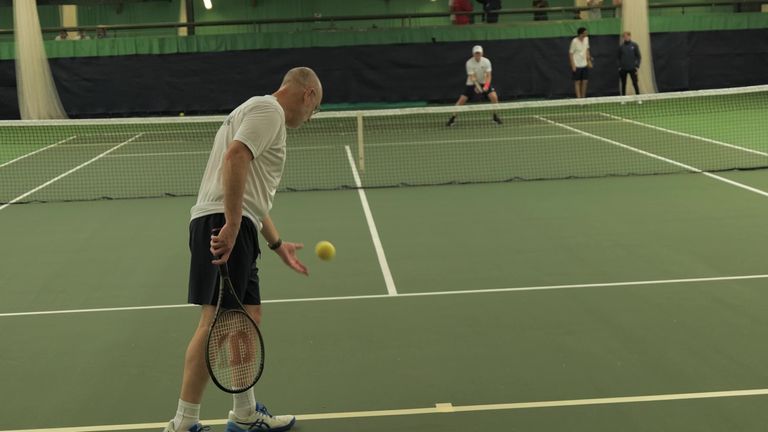 "If you're comparing the tennis court to what you've seen on TV – a mainstream tennis court – partially-sighted is a little bit shorter – so the baseline is halfway between the service box and the normal baseline.
"The main reason for that is that the ball doesn't tend to travel as far, so you can still give it a good whack, it still travels, there's some really good tennis going on.
"Blind tennis is a much shorter court – it's played within the service boxes of a mainstream tennis court, but some of the lines are tactile.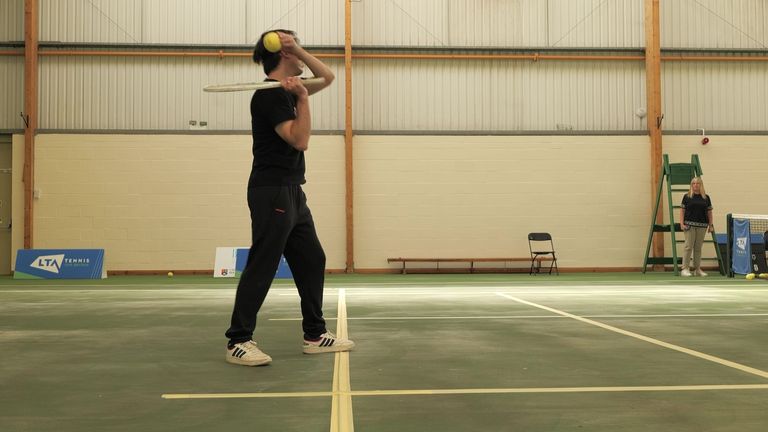 "What that means is that they are taped with something they can feel beneath their feet, so that the players can orientate themselves around the court."
The net is also lowered, to make it easier for longer rallies.
How many bounces are you allowed?
"All B1 and B2 players are allowed three bounces of our audible ball. B3 players get two bounces and B4 players get one."
It's worth remembering that, as in conventional tennis, this is the maximum number of bounces that a player is allowed to have – they can hit it in fewer if they can.
Why do some players wear eye shades?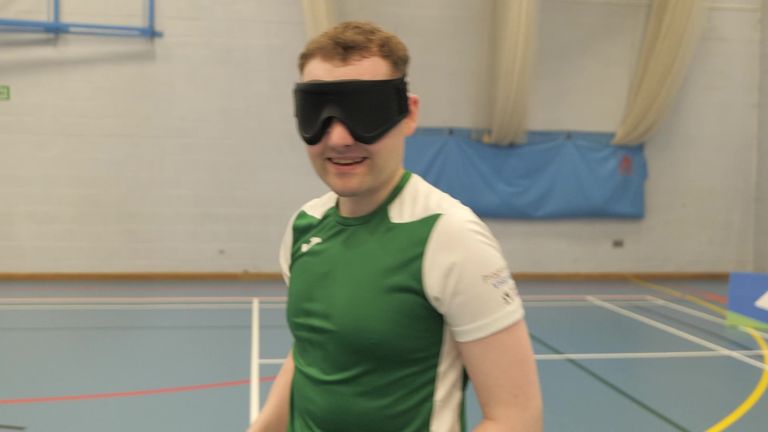 "All blind players have to wear eye shades, so that they have absolutely no chance of any light coming into their vision – the reason for that is to level the playing field.
"To be a blind player, some people may have a slight bit of light perception or some sort of glow if they're in a lighter environment.
"If I had no vision at all and my opponent could, that could be a massive advantage in the game, so to make sure none of that goes on, everybody wears eye shades and at an international level, they actually wear sticky eye patches as well."
The impact of the Blind Games: 'I'm finally getting back something that I loved'
Members of Team Ireland Rya Devereux and Marguerite Quinn shared their experiences as they represented their nation, hoping to send a message to the visually impaired and blind community.
Devereux, 17, plays in the B4 category, and discovered that her sight was deteriorating as her tennis worsened.
"It was awful – I really thought I was done," said the Irish athlete, who is competing in her first world championships.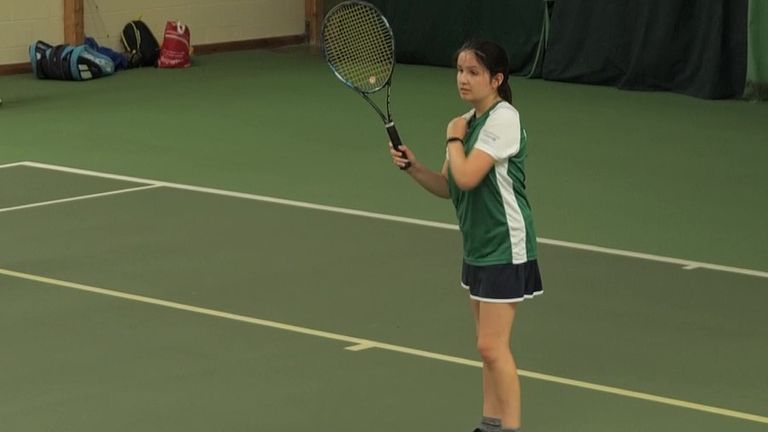 "I really couldn't play any sports because one of my advantages in sports was that I had really good hand-eye coordination and that was just gone.
"I missed it and I tried to play sighted tennis many times after that but it didn't work – I was always miserable playing.
"That's why when I play visually impaired tennis, I'm so ecstatic about it because I'm finally getting back something that I loved."
Quinn, a B3 player for Ireland, lost some vision when she had a brain aneurysm in 2017 and urged those with visual impairments not to give up.
"Don't ever stop and don't ever say 'no'," she said.
"Yes, there are some things you can't do – I can't drive anymore – but I can still get places because I've adapted.
"Don't give up, never stay sitting in that chair – get up, do something because there is always something we can do.
"I don't like the word 'accept', I say 'adapt'"
The visually impaired tennis is taking place in Birmingham from August 23-27, but for those wanting to get involved, there are currently 26 places across the UK to get involved in blind and visually impaired tennis.
When the action in Birmingham has concluded, the attention will turn to Flushing Meadows where the US Open will be live on Sky Sports from August 28 – September 10