Declan Rice declared his love for West Ham following their Europa Conference League victory while David Moyes hailed his first major trophy win as the best night of his career.
Jarrod Bowen's last-minute winner saw West Ham to a dramatic 2-1 victory over Fiorentina in the final in Prague.
Lifting the trophy could be Rice's last act as a West Ham player with speculation rife that a summer move away is on the cards.
Moyes said last month there is a chance Rice could leave – provided the price is right as it is believed the midfielder has a "gentleman's agreement" that he can move in the summer – provided West Ham receive an offer worth £120m, be that in a transfer fee or a transfer fee plus players. Arsenal are interested, as are Bayern Munich.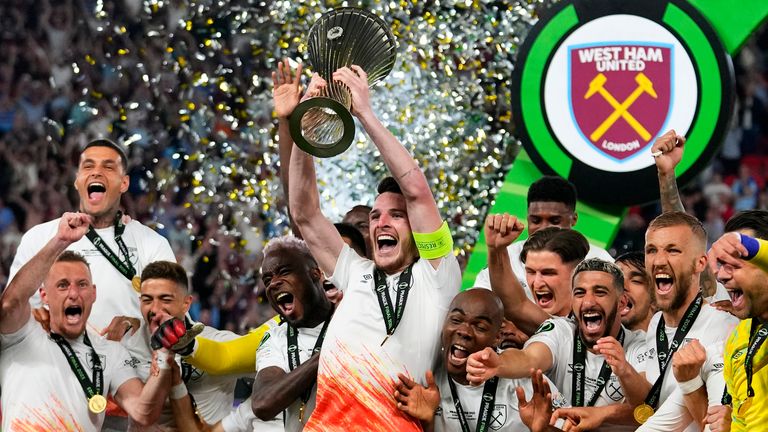 Rice said: "At the moment, there's a lot of speculation going on about my future. There is interest from other clubs, that's out there, but I've got two years left at West Ham ultimately.
"I love this club, I love playing for this club. There's not been anything yet, so my focus is on playing for West Ham, enjoying tonight and then seeing what happens. I'm captain of this club, I love it to pieces and I cannot speak highly enough of this place. Let's see what happens."
On becoming the first West Ham player to lift a major trophy for 43 years, Rice added: "Honestly, it means absolutely everything. Tonight, the lads have been so on it. We had a real belief, I'm not just happy for us, the manager, but these fans, the staff – no one knows the work they put in. The chefs, player liaisons, I'm just as happy for myself as I am for them. I'm so, so happy."
Just nine weeks ago Moyes watched as the away fans unfurled a 'Moyes Out' banner during a 1-0 win over Fulham, which likely saved his job.
Now the manager has written his name in West Ham folklore, joining Ron Greenwood and John Lyall as trophy-winning Hammers managers. A place in next season's Europa League means the club has qualified for Europe three seasons in a row, for the first time.
He told BT Sport: "I would have to say it's my best day in management because the moments you get to celebrate, have your family here, and win in the last few minutes of the game – we did that against Alkmaar as well – they don't happen often. Tonight was brilliant, it's a great feeling.
"If someone said when I took the job three years ago that we would avoid relegation, we would finish in Europe, they would probably have said you're mad. Then, to do it two years in a row and get to a semi-final, then to get to a final… wow.
"And yes, we know this year's not been great in terms of how our Premier League form has gone, but this competition has been great for us. The players have been remarkable, what they have done."
Moyes was seen handing his medal to his 86-year-old dad after the trophy lift.
Moyes said: "He's still going strong, still wants to come to the game. It's great, it was a great moment to have your family at the game.
"These sorts of moments as a manager don't come around too often. You have to work very hard.
"The family, from young boys, they always want to support you. You don't get enough good moments in football sometimes but today is a great moment for us."