Michael Schumacher didn't have the F1 comeback he hoped for with Mercedes from 2010 to 2012 as he was unable to replicate the performances that saw him win seven F1 world championships; watch the Canadian Grand Prix from Friday with all sessions live on Sky Sports F1
Last Updated: 13/06/23 5:40pm
Michael Schumacher brought Mercedes together during his time at the Silver Arrows, Williams team principal James Vowles has told the Sky Sports F1 Podcast.
Vowles, who has been involved in Formula 1 since 2001, was Mercedes chief strategist during Schumacher's time at the team between 2010 and 2012.
He also worked with Nico Rosberg, Lewis Hamilton, Valtteri Bottas and George Russell, before leaving Mercedes at the end of last year to become Williams team boss.
Schumacher made a surprise return to F1 in 2010 after three seasons out from the sport, but was not the same driver as he was during his Benetton and Ferrari championship-winning years.
The German had one podium in his comeback, at the 2012 European GP, and was fastest in Qualifying for the Monaco Grand Prix the same season. However, he was often second-best to team-mate Rosberg.
"Michael was this incredible individual. He had an aura and a presence with him as well, completely different to what you see externally," said Vowles.
"Within the team he was there to help us, help the team move forward. He brought the team close together. He knew everyone's birthdays, he sent flowers to respective partners and really looked after individuals in a great way.
"What it meant is the team were really pushing for him to be successful and that wasn't through any other mechanism than him being himself.
"He also knew his performance was perhaps not quite at the same level, but he made up for it in terms of the amount of work and dedication he put in. From that, Nico learned a lot and conversely, Lewis learned a lot from Nico."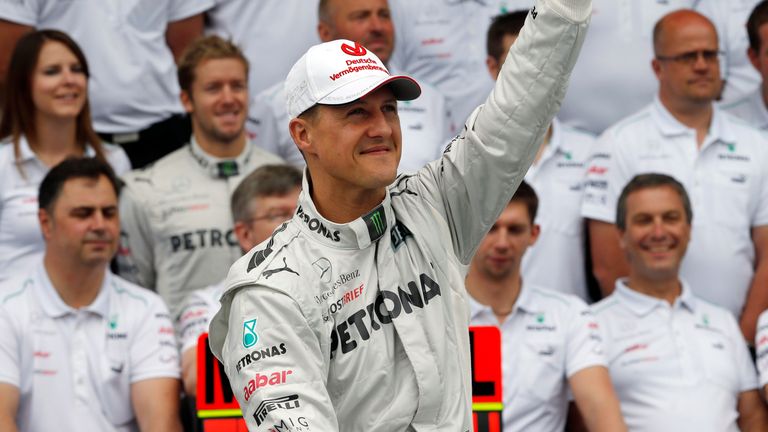 Vowles: Russell is very different to Hamilton
Although Vowles only spent one year at Mercedes with Hamilton and Russell at the wheel, he has seen the younger British driver come up through the motorsport ranks and admits he is different to the seven-time world champion.
"Lewis has such an amount of natural talent. But his work… every year, he steps it up. What he did last year was not good enough for the following year," continued Vowles.
"That's the definition of F1. George was a talent I've known for many years and really grew up into who he is today. He has such potential in front of him. He's very different to Lewis.
"It's not so much one preference or otherwise, they all bring something different to the table, but [are] successful as a result of it. It's more learning from each of them as individuals as to what makes them tick and what makes them grow.
"What they all have in common is they are all world champions or future world champions. That same dedication for going after every millisecond is inherent in all of them."
When will there be a female F1 driver?
Jamie Chadwick has been Williams' development driver since 2019 and is currently racing in Indy NXT, the support series to IndyCar.
Chadwick, who previously said she wants to be in F1 by 2027, won each of the three W-Series titles but is currently not on course to secure an F1 seat.
The last female driver to take part in an F1 weekend was Susie Wolff for Williams at the 2014 British GP, when she took part in Practice One. Lella Lombardi is the last driver to race in the Grand Prix itself, in 1976, and she's the only woman to score points when she finished sixth at the 1975 Spanish GP.
Vowles says there will be a female driver in F1, it's just a matter of how long it will take.
"Jamie was the most successful driver in W-Series, no question about it. We had discussions with her and she's now doing a career pathway in IndyCar. That's sensible to put focus on for the time being," he explained.
"Diverging and putting her back into an F1 pathway doesn't make sense, she's on one now that can lead to great success and she's doing well.
"Within F1 itself, I think F1 Academy will be another strong direction. The car positioning is good and Susie Wolff understands what it takes and is one of the few women who have driven an F1 car and a complete understanding of how to get there.
"But really we are years away before we have the right success. Part of that is the investment wasn't done at the right level or at the right age group.
"You have to go all the way back to karting and create an environment where we breed champions, in the same way that it has been for many of the champions on the grid today. That will take time.
"The difference I'm seeing now is there is definite change and it will happen as a result of the right environment being around."
Sky Sports F1's live Canadian GP schedule
Friday June 16
6pm: Canadian GP Practice One (session starts at 6.30pm)
7.45pm: The F1 Show
9.45pm: Canadian GP Practice Two (session starts at 10pm)
Saturday June 17
5.15pm: Canadian GP Practice Three (session starts at 5.30pm)
8pm: Canadian GP Qualifying build-up
9pm: Canadian GP Qualifying
11pm: Ted's Qualifying Notebook
Sunday June 18
5.30pm: Grand Prix Sunday Canadian GP build-up
7pm: THE CANADIAN GRAND PRIX
9pm: Chequered Flag Canadian GP reaction
10pm: Ted's Notebook
Don't miss an episode of the Sky Sports F1 Podcast. Subscribe now on: Apple Podcasts | Spotify | Spreaker
F1 returns in Canada from June 16-18 with all sessions live on Sky Sports F1, including race coverage from 5.30pm this Sunday