The modern game is increasingly about ball retention but one man continues to buck the trend. Bruno Fernandes' passing choices are all about risk and reward. Manchester United's captain is a creative force who plays without fear of losing possession.
There is a statistic that highlights his unique approach. It uses tracking data to calculate the expected completion rate of each pass based on the position of players on the pitch. The results reveal that Fernandes' expected pass completion rate is just 69.7 per cent.
He is the only player in the Premier League to have completed 100 passes this season whose expected pass completion rate is below 70 per cent. What that means is that Fernandes is trying passes that are more difficult than those attempted by any other player.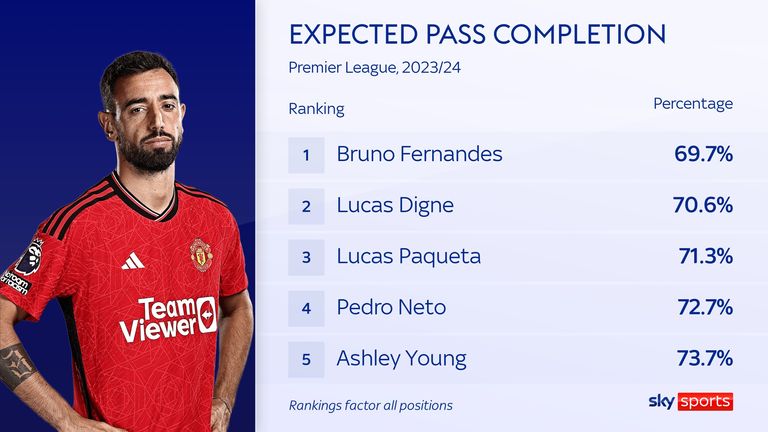 The fact that his actual pass completion rate is a little higher is testament to his ability to execute those passes. But perhaps the real skill, his greatest gift, is having the vision to spot them in the first place. Fernandes has the imagination, that picture in his head.
One of the reasons that the passes he attempts are so difficult is because they are often between opposition players. Fernandes ranks second in the Premier League for passes that break the defensive line of the opponent, having tried 56 of them this season.
He is not trying to hit a static target either. There are moving parts at play here. The average speed of the recipients of his passes is also the highest in the Premier League. Fernandes is frequently finding players who are on the run. It is a fiendishly difficult skill.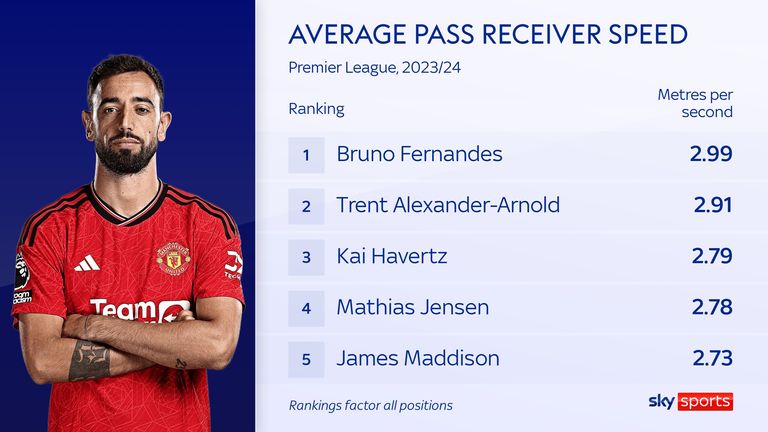 In conversation with Erik ten Hag at the club's training ground, these numbers are put to the Manchester United manager. He has no desire to discourage his captain. "We have to give him support, give him the confidence to keep doing it," Ten Hag tells Sky Sports.
"Because he is such a genius at giving that final pass."
The Dutchman knows that it is not easy. "It demands a lot," adds Ten Hag. "Firstly, intelligence. But also personality when it goes wrong several times and you keep trying to do it." It takes a certain mentality to continue eschewing the easy pass for the hard one.
Steven Gerrard tells a tale from his early days at Liverpool. His midfield partner Gary McAllister, a fine passer of the ball himself, advised him to keep the next pass simple after losing possession. It would help to rebuild confidence before risking the ball again.
Fernandes regularly ignores that rule. The first pass might fail to find its target, there may even be some groans from the crowd, but if he sees that the opportunity is there to find that opening once again just seconds later, the Portuguese will invariably take that chance.
It is an approach that helps make Fernandes the most creative player in the Premier League. Expected assists calculate the likelihood of a pass resulting in a goal. It is a purer evaluation of creativity than actual assists because it does not factor in the finish itself.
Fernandes tops the list for expected assists this season.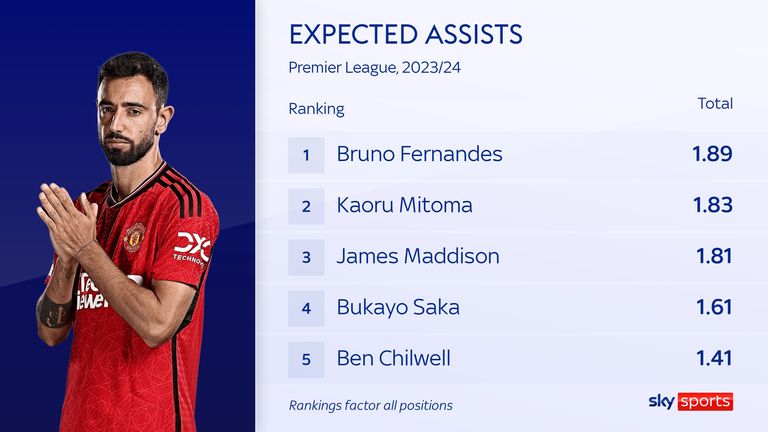 And yet, Ten Hag remains mindful of achieving the right balance. He wants his creator to continue to make things happen for Manchester United in the attacking third of the pitch. But his commitment is to a possession game and that means there are limits.
"Of course, I wish that he could increase his pass completion but still affect the game in the same way with the key pass, the final pass. That is what he is aiming for." It is an ongoing conversation between the player and his manager. "We have to help him," he adds.
"But a player of his age, and he is also the captain, sometimes he has to think in a strategic way that keeping the ball is also very important for a team to control the game." Be a leader? "That is absolutely leadership. To recognise taking the right decisions."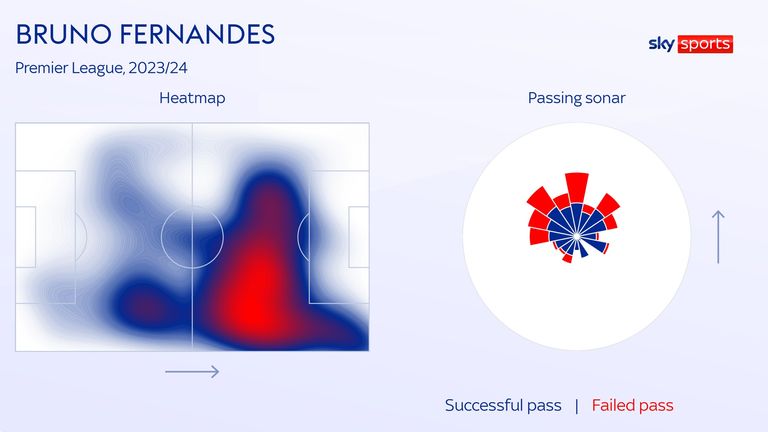 Ten Hag's task is to ensure that Fernandes has enough of the ball and enough of it in the most effective areas. That can change. "He has a big impact on our game so we see from game to game what is needed, what is needed against an opposition," he says.
"Bruno can do it from many positions. He can do it from central positions but also he can do it from wide positions. Last season, we also experimented with him doing it from a deeper role. There also you could see that he could play very good passes, very constructive."
Ten Hag knows what his captain can do. His job is to provide him with the platform, put the right players around him, doing the right things, to take advantage of his skills. Create the conditions for success. "We have to get Bruno in the right spaces on the ball," he adds.
Bruno Fernandes will do the rest.
Follow Man Utd vs Brighton in our live blog from 1.30pm on Saturday (kick-off 3pm) and watch free match highlights from 5.15pm