Dozens of members of Spain's World Cup-winning women's team have said they will not play any matches for the country until Luis Rubiales has been removed from his job.
Under-fire national football federation president Rubiales has refused to resign despite being widely criticised for kissing midfielder Jenni Hermoso on the lips at the medal and trophy presentation.
Hermoso said on Friday through a statement released by players' union FUTPRO that "in no moment" did she consent to a kiss on the lips by Rubiales who claimed in an emergency meeting of the Spanish soccer federation that the kiss was consensual.
What happened at Rubiales' shocking press conference?
He insisted repeatedly that he would not resign
Said his kiss of Hermoso was "spontaneous" and "consensual"
Claimed he is the victim of a witch hunt by "false feminists"
Threatened to sue his accusers
Said he will offer women's head coach Jorge Vilda a new four-year contract
Hermoso then released her own personal statement on Friday evening revealing how she was left feeling "shocked" and "vulnerable" after "an impulse-driven sexist out of place act without any consent".
The 33-year-old also claims she was asked to make an joint-statement to "alleviate pressure" on Rubiales in the immediate aftermath of the incident.
Since confirming earlier this week that the kiss was not consensual, Hermoso stated she has been "under continuous pressure to make a statement that could justify Rubiales' actions". She also claims different people have pressured her family, friends and team-mates to give a testimony that "had little or nothing to do with my feelings".
Later on Friday night, England Women released a statement via captain Leah Williamson in support of Hermoso and the Spanish team that defeated them 1-0 in the World Cup final.
It read: "Unacceptable actions allowed to happen by a sexist and patriarchal organisation. Abuse is abuse and we have all seen the truth.
"The behaviour of those who think they are invincible must not be tolerated and people shouldn't need convincing to take action against any form of harassment.
"We all stand with you, @jennihermoso and all players of the Spanish team."
Players demand Rubiales departure
A total of 56 players, including Hermoso and all of the cup-winning 23-strong side, signed a joint statement sent via their FUTPRO union demanding the removal of the federation leadership.
The Spanish media had widely reported on Thursday evening that Rubiales would stand down at an extraordinary general assembly of the Spanish federation (RFEF) on Friday but instead he was defiant.
There have already been a number of resignations from the RFEF over the incident and the subsequent fall-out, including Rafael del Amo resigning from his post as president of Spain's women's football committee.
The Spanish government are pushing for the suspension of Rubiales with Victor Francos, head of the state-run National Sports Council, saying the government wants this to be "the 'Me Too' of Spanish football" in reference to the movement seeking to highlight and prevent sexual violence towards women.
Francos told a press conference in Tarragona: "What Mr Rubiales has done is aggravate the situation. The government will not be impassive.
"Mr Rubiales said he was not resigning. We want to convey one thing with all the institutional respect that the president of the RFEF deserves.
"The government begins today the procedures so that Mr Rubiales has to give explanations before the Administrative Court of Sport (TAD) and, if the TAD is willing, we will suspend Mr Rubiales in his functions.
"Today we will file a complaint with the TAD. The complaint will arrive this afternoon and we request that there be an extraordinary meeting of the court next Monday.
"We want this to be the 'Me Too' of Spanish football and that this means a change. I apologise to the players, because they didn't deserve this week. Hopefully we can celebrate again when this storm passes."
Rubiales refuses to resign amid FIFA investigation
FIFA had on Thursday opened disciplinary proceedings against Rubiales, who also grabbed his crotch in celebration of Spain's victory over England despite being just metres away from Spain's Queen Letizia and her teenage daughter in the stadium VIP area.
Rubiales apologised for his behaviour in the VIP area but insisted in his speech on Friday that the Hermoso kiss was "spontaneous, mutual, euphoric and consensual".
He said he had been the target of a "social assassination" and repeatedly and emphatically stated "I will not resign", words that drew applause from the gathered delegates.
'They are preparing an execution' – Rubiales' astonishing rant
Spanish FA president Luis Rubiales at an extraordinary meeting of its general assembly:
"They are not trying to carry out justice, that's fake. A social assassination is being carried out on me. They are trying to kill me.
"Fake feminism does not seek justice, doesn't seek the truth, doesn't care about people. I repeat, they are preparing an execution.
"To these people who have said this about me, that have accused me, that are trying to kill me publicly… I'm going to defend myself, I'm going to defend myself like every other Spaniard should do in the courts.
"I'm going to take action against them. I'm not going to resign! I am not going to resign! I am not going to resign! I am not going to resign! I am not going to resign!"
Rubiales' defiant stance prompted fresh calls for the Spanish government to take action, while world players' union FIFPRO said UEFA – for whom Rubiales is an executive committee member and a vice-president – must open disciplinary proceedings. UEFA did not wish to comment at this time when approached by Sky Sports News.
But perhaps the most damning response of all came from Barcelona and Spain star Alexia Putellas, who posted on X: "This is unacceptable. It's over. With you my team-mate @Jennihermoso."
Yolanda Diaz, Spain's second deputy prime minister, said the government "must act and take urgent measures", adding: "Impunity for macho actions is over. Rubiales cannot continue in office."
World players' union FIFPRO, the global players' union, said it had written to UEFA urging it to open disciplinary proceedings and said any lack of action would "send a completely unacceptable and damaging message to the football industry".
"Any lack of action by authorities in addressing the conduct of Mr Rubiales would send an entirely unacceptable and damaging message to the football industry and wider society," the statement concluded.
European football's governing body has yet to issue any comment on the Rubiales case.
Rubiales started a fight he can't win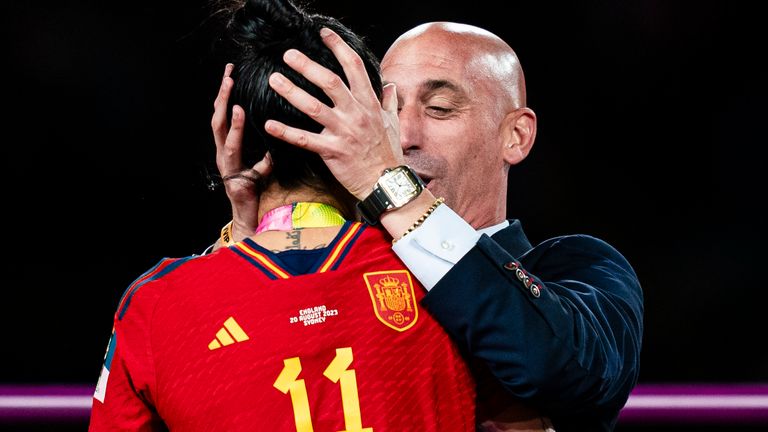 Sky Sports News chief reporter Kaveh Solhekol
"Luis Rubiales is running out of road tonight. He's started a fight he can't win. He's taken on the women's football community and he's taken on the overwhelming majority of the whole football community.
"He's also taken on the Spanish government and, as far as they're concerned, he's not going to get away with it. They gave him the chance to resign, they gave the federation the chance to remove him.
"Those chances were not taken so the government is going to take matters into their own hands. They are going to use the sport tribunal to make sure he is suspended for serious misconduct.
"During his speech this morning, Rubiales was trying to survive by winning the argument in the court of public opinion. The only court that matters though is Spain's court of sport.
"In his speech, Rubiales appeared to be turning into the Donald Trump of sport. He is now a dead man walking. The only question is whether he will finally resign before he is removed.
"Spain's Women's squad say they will not play for their country while he's in charge and that means it's game over for Rubiales.
"Spain are the world champions, but Spanish football cannot be great again until Rubiales leaves."
'Embarrassing', 'My ears are bleeding': Football reacts to Rubiales' speech
England defender Jess Carter, who played the whole 90 minutes of Sunday's final defeat, told Sky News Rubiales' actions had "tarnished" the moment of Spain's victory.
"It's really sad, to be honest, that such a special moment has been tarnished, for Hermoso, for Spain, who have just achieved something incredible – and it's been ruined by that moment," she said.
"I didn't see it live, it wasn't until I got back and saw the photographs, and I said 'this can't be real'. It's so unacceptable, and I'm not sure how he can say anything other than sincere apologies. It's not something that should happen in any line of work, least of all on the world stage.
"She's been put in an almost impossible position, how do you go against someone with such power? But at the same time stand up and say that it's not acceptable."
Rubiales' comments were not well-received by a number of former Spain internationals, with David De Gea taking to X to write: "My ears are bleeding."
Former Spain captain Iker Casillas called Rubiales' speech "embarrassing", and added in another message: "We should spend these 5 days talking about our girls! Of the joy they gave us all."
Arsenal's Spanish manager Mikel Arteta was asked whether the controversy over Rubiales had overshadowed his country's World Cup success.
"Hopefully it doesn't because I'm extremely proud of what they (the players) have done," he said at a press conference on Friday.
"The whole country is, but I don't have the full details so I cannot comment on what happened today. But it is sad that this is happening while everyone should be celebrating and be extremely proud of what they've done."
Paris Saint-Germain coach Luis Enrique, who coached Spain's men's team at last year's World Cup in Qatar, said Rubiales' work as FA president had been "exceptional", adding: "The statistics are there to see so he has done brilliantly.
"As for what happened in the last game, the president has admitted his mistake so I don't have to offer my opinion."
Liga F, the Spanish women's top flight where 22 of the World Cup winning squad's 24 players play domestically, made an unprecedented statement of their own on X, formerly known as Twitter, writing: "It's time to change this forever" with regards to Rubiales' position.
Real Betis striker Borja Iglesias, who made his debut for the national side last year and was in Luis de la Fuente's last squad, has said he will not play for his country again "until things change and this type of act does not go unpunished".
In a statement on X, the 30-year-old wrote: "As a footballer and as a person I don't feel represented by what happened today. Wearing the Spanish national team shirt is one of the greatest things that has happened to me in my career.
"I don't know if at some point I will be an option again, but I have made the decision not to return to the national team until things change and this type of act does not go unpunished."