Spain's acting prime minister Pedro Sanchez has slammed Luis Rubiales for kissing Jennifer Hermoso on the lips during the World Cup final trophy celebrations and says the Spanish FA president's apology is "not adequate".
Footage showed Rubiales embracing Hermoso as she went to collect her medal on the trophy podium after Sunday's 1-0 win over England.
After initially claiming those who criticised his kiss were "idiots and stupid people," Rubiales was forced to apologise on Monday and said he was "completely wrong" – but Sanchez remains unimpressed.
"What we saw was an unacceptable gesture," Sanchez said on Tuesday. "Rubiales' apologies are not enough, I even think they are not adequate. He has to continue taking steps to clarify what we all saw.
"The players did everything to win but Rubiales' behaviour shows that there is still a long way to go for equality."
Asked if Rubiales should leave his position, Sanchez said it was not his decision because the Spanish FA is not controlled by the government. Later on Tuesday, the Spanish FA confirmed an Extraordinary General Assembly has been scheduled for Friday in Madrid to discuss the matter.
The kiss caused an immediate outcry both inside Spain and abroad. Deputy prime minister Yolanda Diaz said Rubiales "has harassed and assaulted" a woman and called for his resignation, while the country's equality minister said it was an act of "sexual assault".
Spain's leading opposition party has also joined in denouncing Rubiales' behaviour, leaving him without any support from major public or political figures.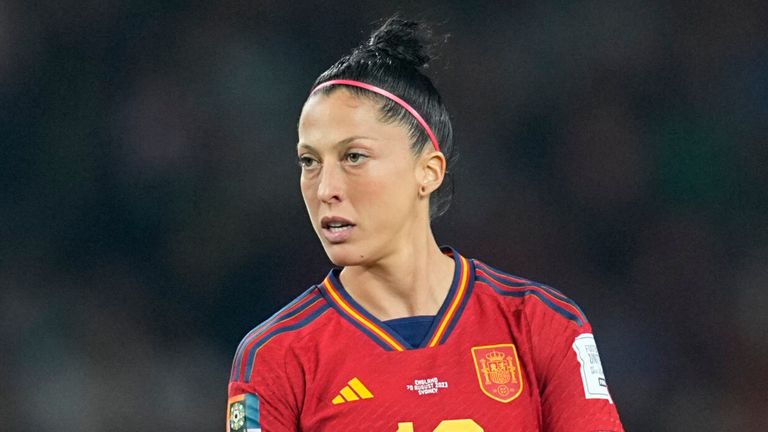 Hermoso, who is Spain's all-time record scorer, said she "did not enjoy it" when asked about the incident during an Instagram live video, but a statement released later on her behalf defended Rubiales.
"It was a totally spontaneous mutual gesture because of the immense joy that winning a World Cup brings," it read.
"The president and I have a great relationship, his behaviour with all of us has been outstanding and it was a natural gesture of affection and gratitude."
Rubiales, a former player, has led the Spanish FA since 2018 and is up for re-election next year. He is also a UEFA vice-president and was the European football body's most senior elected representative at the World Cup final in Australia.
Immediately after Spain's win on Sunday, Rubiales also grabbed his crotch in a victory gesture. That occurred with 16-year-old Princess Infanta Sofia and Queen Letizia of Spain standing nearby. Neither UEFA nor FIFA have commented on his conduct during the final.
'Reaction in Spain has been polarised'
Spanish football expert Semra Hunter speaking to Sky Sports News about the incident:
"The reaction has been polarised in Spain. Some people felt it was no big deal, that they were both caught up in the moment and it was a snap reaction – they're defending him in a way.
"But there are other people who've said what is he doing, what is he thinking and it's grossly inappropriate.
"She tried to downplay it to the media by saying they had a great relationship, he's supported the girls throughout the tournament, he's really behaved very well and there's nothing more to it.
"But on social media she said she didn't really like it. I think we're not really clear as to how she feels about it.
"If she really does feel uncomfortable about it then we have to look at the wider problem here and why it is that she can't speak up and be honest about it.
"The reactions here have been completely opposite, in terms of those that are saying it's not too much of a big deal and others that are absolutely horrified at what they saw and are asking him to step down as the Spanish FA president."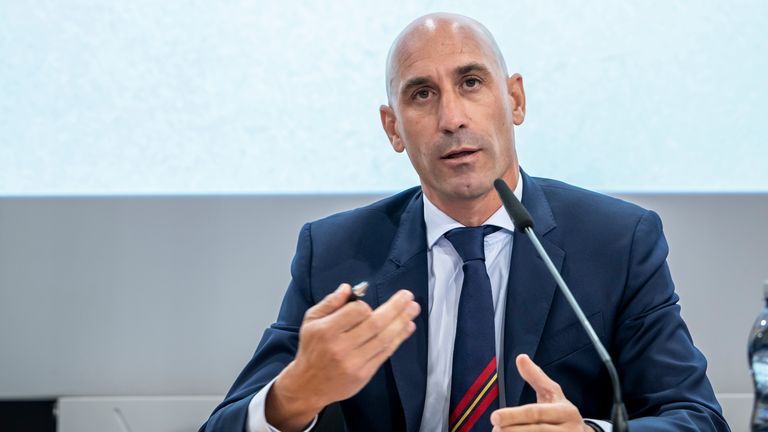 How Spain and football reacted
In Spain, acting minister for sports and culture Miquel Iceta told public broadcaster RNE "it is unacceptable to kiss a player on the lips to congratulate her".
A stronger reaction came from Spanish government equality minister Irene Montero.
"It is a form of sexual violence that women suffer on a daily basis, and which has been invisible so far, and which we should not normalise," Ms Montero said wrote Sunday on X, the social media platform formerly known as Twitter.
Meanwhile, world players' union FIFPRO said the kiss was "deeply lamentable".
"It is deeply lamentable that such a special moment for the players of the Spain national team that was taking place before a global television audience should be stained by the inappropriate conduct of an individual in a role carrying so much responsibility," FIFPRO said in a statement.
"Uninitiated and uninvited physical gestures towards players are not appropriate or acceptable in any context. This is especially true when players are put in a position of vulnerability because a physical approach or gesture is initiated by a person who holds power over them."