Rangers manager Michael Beale has told Sky Sports he is moving forward with "optimism" after ending the season with "a tinge of disappointment."
The 42-year-old former Ibrox coach returned as manager in December promising to drive up standards on the pitch and give supporters plenty to be excited about again.
Despite losing just two Premiership games he was unable to make up ground on champions Celtic, with Rangers also losing against their Old Firm rivals in the League Cup final and Scottish Cup semi-final.
Alfredo Morelos, Ryan Kent, Allan McGregor and Scott Arfield were among the end-of-season departures as Beale looks to bring in players who can "grow for the next two or three seasons."
The manager has wasted no time in the transfer window with Kieran Dowell, Dujon Sterling and Jack Butland joining the club.
In an exclusive interview with Sky Sports, Beale spoke about his return to Ibrox, his summer rebuild and challenging Celtic for the title next season…
How have you found your first season in management?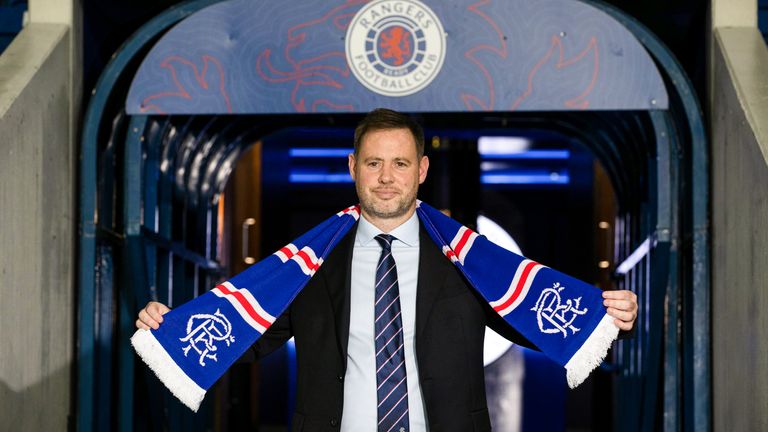 "It's probably everything I wished it to be in terms of being a natural transition from being an assistant for many years. My desire was to become a manager. Two different leagues in one season, a lot of drama in between but I've had a lot of experience in that.
"The size of the clubs are different. I loved my time at Queens Park Rangers with Les Ferdinand and the staff there. It was really important to me before coming back to Rangers.
"The opportunity to come here I didn't think would come anywhere as near as quickly as it did. This is a juggernaut of a club and everything that comes with it but I've been pleased with my staff and how they've handled it. I've been pleased with the support I've had from the club and everybody around the backroom team.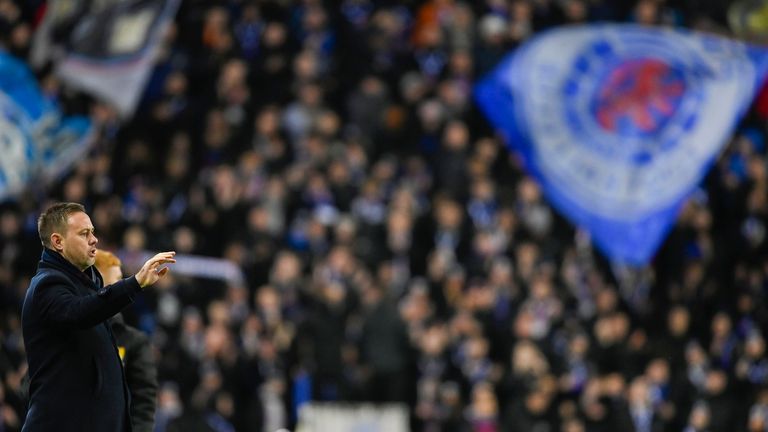 "There's a tinge of disappointment because I felt we could have done better. We've won a lot of games but in the real key moments we've tended to shoot ourselves in the foot. That will be in the forefront of my mind going for the recruitment this summer.
"It's a really important summer for me, the football club, the fans and ultimately for the players in the squad as well."
On saying squad 'wasn't broken' and 'second is last' when appointed…
"The team wasn't as broken because we won a lot of matches and played well. We've managed to turn a corner in terms of our consistency home and away. We score a lot of goals, especially away from home. Some of our big away performances I've been delighted with.
"But second is last certainly in this country and the way that our league is, and the intensity. It's important that we don't want to finish second so we have to make some changes.
"It's a harsh world sometimes football but that's the expectation here at Rangers and you have to change players in search for extra players that can come in and make a difference, make a big impact. That's what we're looking for this summer.
"We've made some decisions to freshen up the squad to bring in people that can make a considerable difference to the outcome of the season.
"Our points total will be one that would have won the league in many other years. The game can be ruthless. The opinion on a group of players can be ruthless as an occurrence of that. What I've got to do now with my staff is bring in some good players that can help us go on a journey for the next three to five years."
How much of this season has been about the short-term goal of improving Rangers while trying to implement bits of what you want for the long-term aim?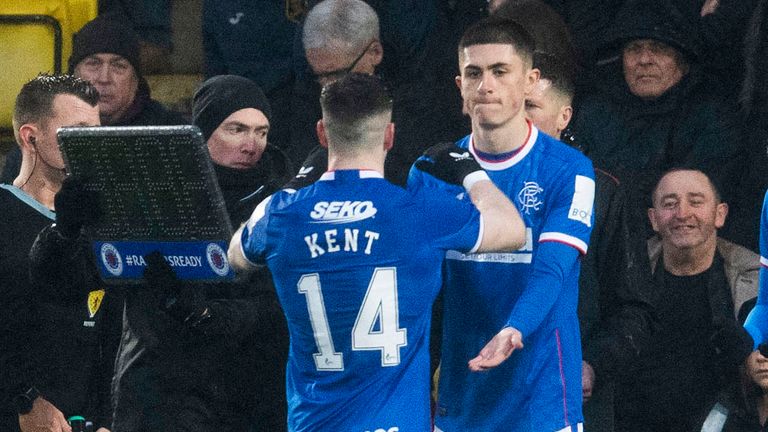 "Everyone just wants you to win. I need to win and put some stability into the club, some harmony, some players in it which I feel can grow for the next two or three years here. That there's a value on their head as well if they do well that we can trade and start again in terms of bringing other players in.
"If we look at the last 12 to 14 months, Nathan Patterson left the building, Joe Aribo and Calvin Bassey for the outlay of which was probably under £500,000. For the finance that we brought in, it was great but it's important you have a conveyor belt behind it.
"It's important the links between me and the academy are really strong to open a pathway. We have had a number of academy players on the pitch this year but who's going to stay in? Who's going to be a mainstay? Who's going to be a marquee player for Rangers?
"The fans and the outside media will just look every three to five days when you play. Win, lose or draw that's how they'll deem success. I need to win. The team need to win. My staff need to win. But we also need to make sure we build a really strong club moving forward."
Do you have to make sure decisions on players are made earlier to avoid Kent/Morelos situation?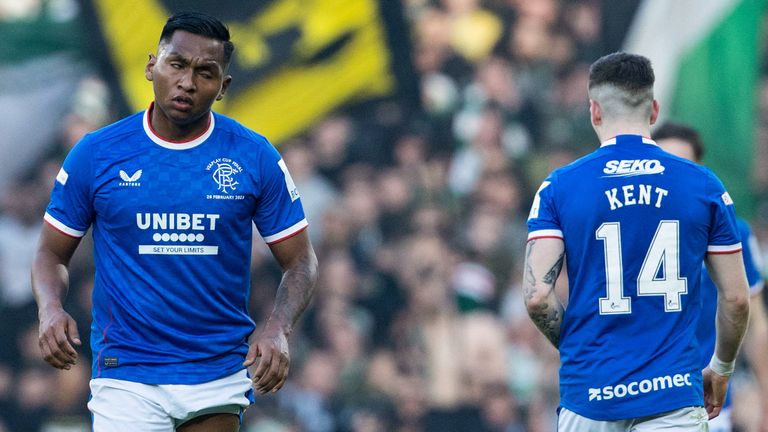 "It should never be a shock to a player. It wasn't a shock to Ryan and Alfredo. When I came back into the club, the players that were out of contract all had different things going on.
"When I came back in I had an initial conversation and agreed with them all to get to the March international break. Let's do what's right for Rangers, and the fans, let's get the team back on track, start winning matches, start getting the harmony and the feel-good feeling around Ibrox where it needed to be.
"In March I spoke to everybody again and they've had clarity for a good while now. We've all been on the same page. There's an element that I agree with one or two that it's time for a change and everybody on the board does as well.
"Allan (McGregor) it's a natural thing with his age. Scott Arfield pulled on the heart strings because I felt he still could have had a part to play but when you sit and talk about what Scott and Rangers need we couldn't meet in the right place. It ended amicably.
"Filip (Helander) has been injured a long time. I felt Ryan and Alfredo both needed a change and I think they both agreed as well. They left with a big hug and that was important to me.
"Moving forward, it's really important no one has a shock like those guys. It's not just the players, it's their extended family as well. There's a lot to put into it. It's important communication is very clear and they get that from me."
How do Rangers win the league next season and bridge the gap to Celtic?
"We start how we're ending with our style being very clear, our energy being very strong on the pitch in terms of our pressing and the bits out of possession. Make sure that we're really hard to beat then allow our quality to come through. We'll look to recruit a spine that's enabled to stay at Rangers for the next three to five years to build on.
"You've seen the start of that with Nico Raskin and Todd Cantwell coming in and Kieran Dowell. We'll look to add to that with a little bit of experience but certainly in terms of quality in the final third.
"You'll be able to tell by my face at the start of pre-season whether I've been successful in getting everyone that I want but either way we'll come back into pre-season next year with a few new ideas that I've wanted to implement. We need to go and recruit a certain type of players for that. We'll come back stronger.
"Our league form in the last 24 games would say if we can get to that stage where we are now, we'll be in the mix. It'll be about getting to the March international break where we need to be and then going for it."
Does the title win under Gerrard help to know what it takes to stop Celtic?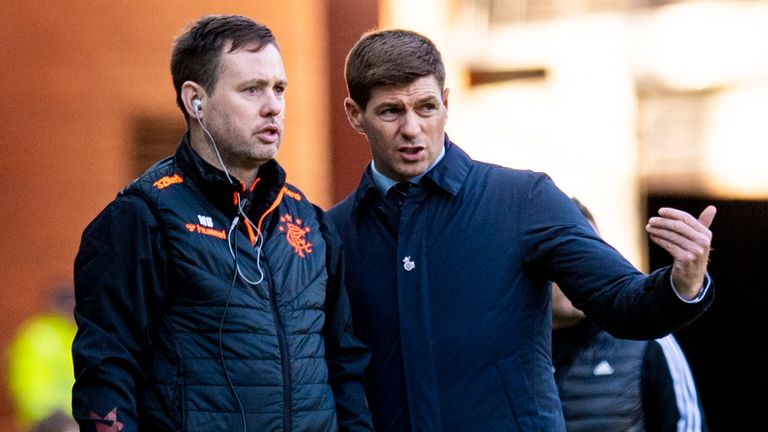 "Over Steven's management time in the last year and a half, there was one defeat in 52 games. I've come back for 23 or 24 and had a couple of defeats. That's a lot of games where I've had experience in this league over two spells where the team has performed well.
"The big thing is the goalposts move in football. All the teams this summer recruit and change players. I'm sure everybody is going to strengthen and nothing looks the same. There will be changes in managers, personnel and there will be some surprises.
"My focus is on how do I make my Rangers team stronger? We're talking about a Rangers team that has not dropped too many points in the league since November. I'm strengthening from a decent place."
How tough will Champions League qualification be?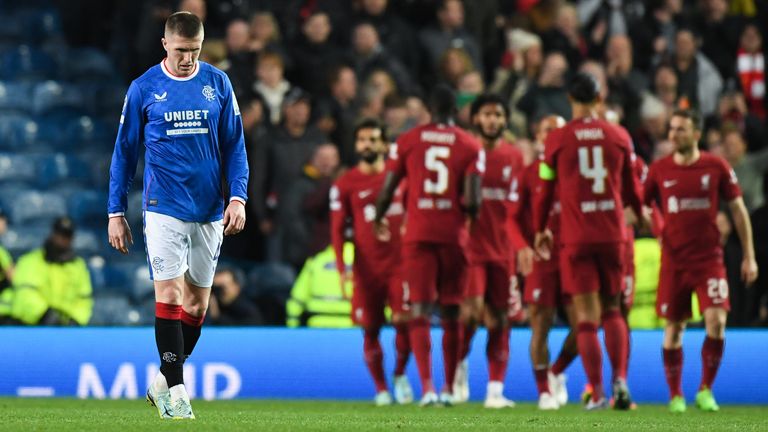 "The focus is from the first day back of pre-season. We come back the day the fixtures come out for the league and then we'll know roughly who we can draw in the Champions League.
"If we're lucky enough to get through, there's a chance we'll be in pot three. If we're in the Europa League, I think we'll be in pot one. It's there for us.
"Credit to all the players and managers in the last few years, we were a team that had to qualify with four qualifying rounds in 2018. After that we've had the last 16 twice, the Europa League final and Champions League group stage.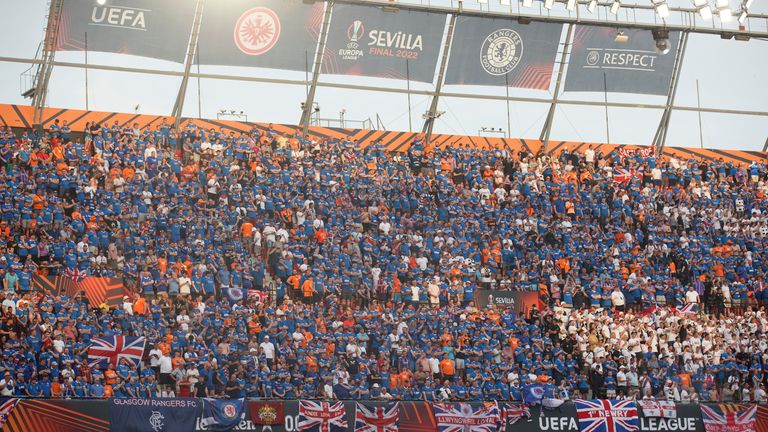 "Our progress in Europe has been outstanding. The co-efficiency has helped everybody. It's fantastic we're in the split at the end of the season and people are fighting for European group stage football. That shows the work everyone has done in Scotland to improve the co-efficiency.
"Our run in Europe the last few years has been outstanding. This year, it was a little bit cruel, but the level went up and the teams we played were excellent. We want to get back there and improve on last year's showing."
What do you make of the Scottish game and how can it improve?
"VAR has had a better impact than people realise. We've focused a lot on the penalties and the handballs situation but that's more the law.
"When I came in 2018, Alfredo got caught up in quite a bit of the off-the-ball stuff. We used to go to the compliance officer quite a lot. That's not in our game now. We have to see the benefits of the other side of it.
"I see different tactics happening in the league, different managers as well. The managers in Scotland deserve huge credit. We're not managers that can go out and buy the ready-made players. There are only two or three managers in the league that are fortunate enough to go and buy players.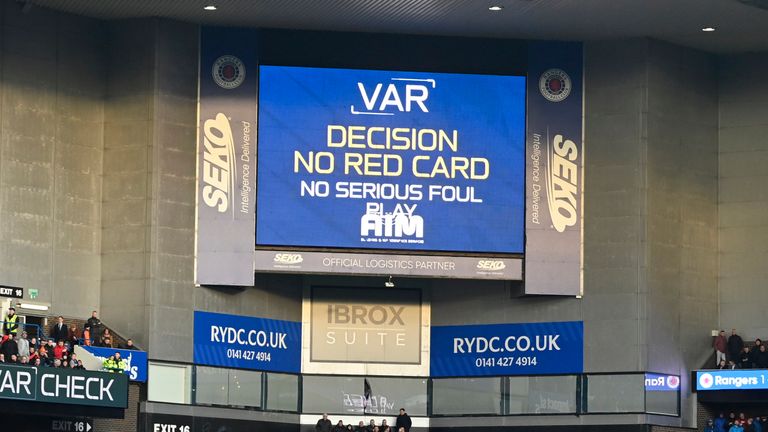 "The rest of the managers and even the managers of Rangers and Celtic have to go out and look for players that have untapped potential or need a certain type of management or development to fulfil what they've got. That's why our league produces good managers.
"At times we need to make sure the league is fair. Teams shouldn't play certain teams three times away and one time at home, but I understand that's the way the league has been set up. That's very hard for a team to jump out of the pack and surprise everyone over a 38-game season because they play so many games against Rangers and Celtic that it makes it difficult for them.
"But they are things from being a small country. We have to sometimes realise we're 300 miles away from the biggest league in the world but our league per capita for people watching is as strong as anywhere. It's important we promote it inside the league.
"Having two teams in the Champions League last year and Hearts in the Conference League group stage as well, that's making strides forwards."
What's your message to Rangers fans for next season?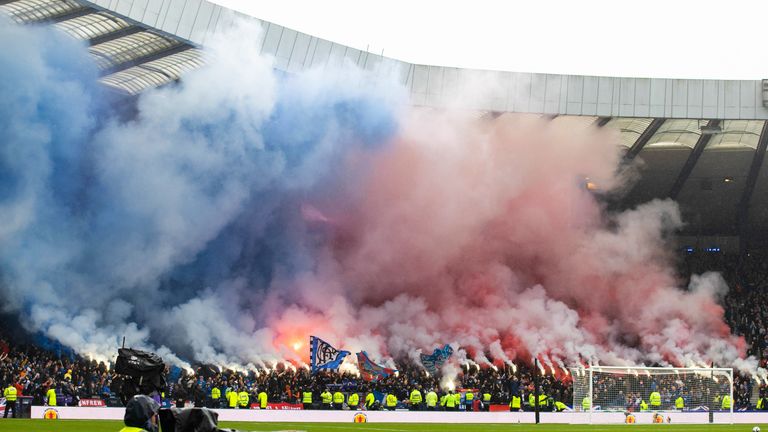 "The support this season has been incredible. The send-off they gave the players the other day at the end of a disappointing season was not normal. It was something that showcased this club that if you give your all, you'll be rightly rewarded with fans who will stick by you.
"They've been fantastic to me, I'll need them to be in the future and I really want them to welcome the new players in and get behind the team. We need to make Ibrox a real fortress.
"We had a home league campaign where we were unbeaten, we need that again next year and in Europe. This year has seen the club, at times, not be aligned with its fans and it's important moving forward we're aligned all together. That makes us stronger. I believe there's a lot of optimism moving forward."
Follow every Rangers game in the Scottish Premiership this season with our live blogs on the Sky Sports website and app, and watch match highlights for free.
Want the Rangers latest? Bookmark our Rangers news page, check out Rangers' fixtures and Rangers' latest results, watch Rangers' goals and video, keep track of the Scottish Premiership table and see which Rangers games are coming up live on Sky Sports.
Get all this and more – including notifications sent straight to your phone – by downloading the Sky Sports Scores app and setting Rangers as your favourite team.