A commercial merger between the PGA Tour, DP World Tour and Saudi Arabia's
Public Investment Fund (PIF), who fund LIV Golf, has caused controversy and confusion within golf; Jon Rahm spoke about the historic agreement ahead of the US Open, live from Thursday on Sky Sports Golf
By
Last Updated: 13/06/23 7:53pm
Masters champion Jon Rahm believes PGA Tour players feel a sense of 'betrayal' from management after last week's 'bombshell' announcement from golf's main tours.
Rahm was among the players left stunned by the new agreement between the PGA Tour, DP World Tour and Saudi Arabia's Public Investment Fund (PIF), who bankroll LIV Golf, with three organisations coming together to make a proposal to try and "unify the sport on a global basis".
The world No 2 was surprised by the timing of the truce, the week before the US Open, with Rahm also admitting there are plenty of questions left unanswered by golf's governing bodies and a number of players frustrated by the change in stance from the PGA Tour.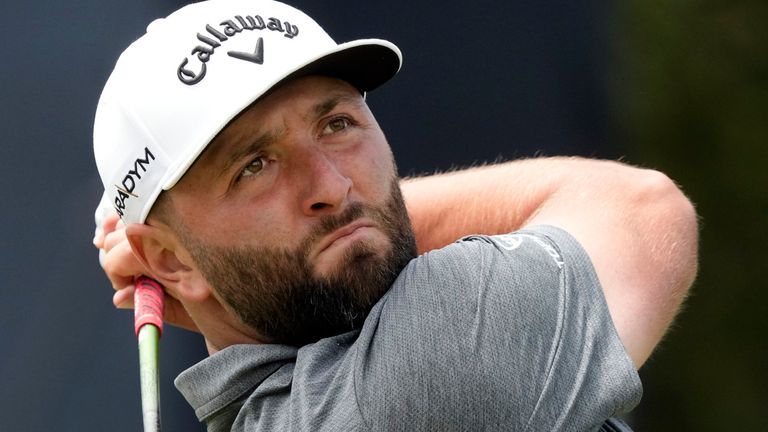 "I think it gets to a point where you want to have faith in management, and I want to have faith that this is the best thing for all of us, but it's clear that that's not the consensus," Rahm admitted in his pre-tournament press conference ahead of the US Open, live on Sky Sports.
"I think the general feeling is that a lot of people feel a bit of betrayal from management.
"I understand why they had to keep it so secret. I understand we couldn't make it through a PAC [Players' Advisory Council] meeting for more than 10 minutes before people are spilling the beans right away in some article by you guys. I get it, I get the secrecy.
"It's just not easy as a player that's been involved, like many others, to wake up one day and see this bombshell. That's why we're all in a bit of a state of limbo because we don't know what's going on and how much is finalised and how much they can talk about.
"It's a state of uncertainty that we don't love, but at the end of the day, I'm not a business expert. Some of those guys on the board and involved in this are, so I'd like to think they're going to make a better decision than I would, but I don't know. There's still too many questions to be answered."
Will LIV players be welcome back to PGA Tour?
The three tours said in last week's joint statement that terms of the landmark agreement will be finalised "in the months to come", with no details yet available about how players from the Saudi-backed LIV circuit will be integrated back into the PGA Tour and DP World Tour.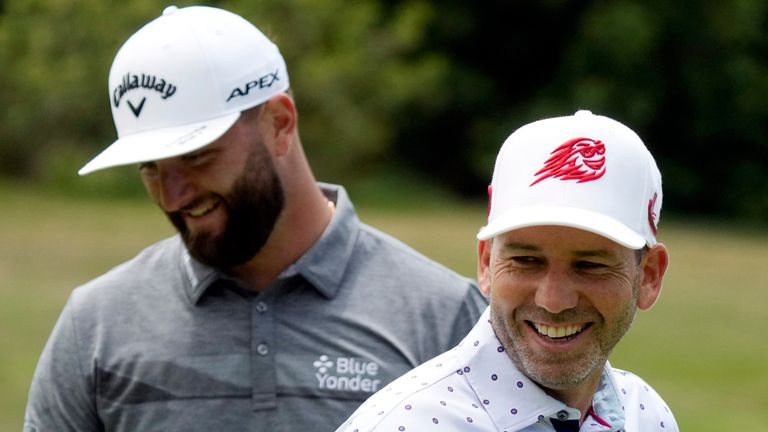 "If things change, things change," Rahm added. "I'll have to adapt to the situation and will have to make some decisions on what's going on forward, and I'll make some decisions.
"At the end of the day I'm still very privileged, whether the PGA Tour and LIV Golf align or not or who plays and who likes who – it doesn't really matter.
Live US Open Golf
June 15, 2023, 3:00pm
Live on
"I don't really care, to be fair. I don't care at this point. Too much has gone on. I think like everybody, I just want some answers and basically know what the future looks like, and that's about it."
Rahm has previously called for LIV players to still be eligible to feature in the Ryder Cup, with Team Europe's all-time record scorer Sergio Garcia among those currently set to miss out on featuring for Luke Donald's side in Rome.
Garcia and his LIV players missed the May 1 deadline to reapply for DP World Tour membership for the 2023 season, a requirement to eligible for Team Europe, with a memo sent to players from CEO Keith Pelley last week confirming that only "an exceptional circumstance" would change that.
On whether last week's announcement could change who plays for Europe, Rahm said: "Again, we have no clue. The only thing I can say at this point is I have faith in Luke Donald, and I have faith that Luke is going to do the best and he's going to try to make the best decision for Team Europe.
"At the end of the day he's the captain and I'm not. It's his ship to steer. I have faith in my captain and I'm sure we're going to end up with the best team we can end up with."
Who will win the US Open? Watch the third men's major of the year exclusively live from June 15-18 on Sky Sports Golf!