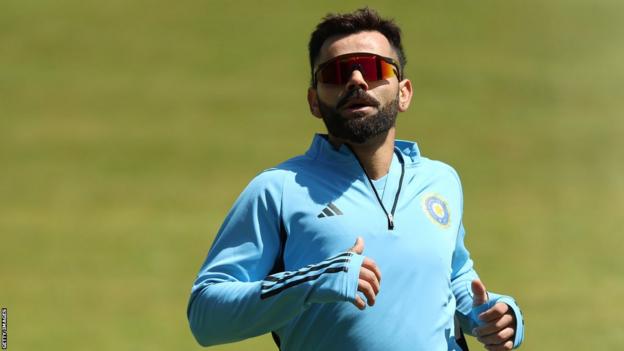 Venue:
The Oval
Dates:
7-11 June
Coverage:
Live commentary on Test Match Special through BBC Sounds and Radio 5 Sports Extra, live text commentary with in-play clips on the BBC Sport website
To build-up to India's World Test Championship final against Australia, BBC Sport asked India cricket writer Gulu Ezekiel, author of books on Sachin Tendulkar, Sourav Ganguly and Bishan Bedi, to assess the team's chances.
India will be concerned about injuries to some of their leading players and their lack of preparation time going into the World Test Championship final against Australia on Wednesday.
The squad of 15, plus three reserves, left for London in three batches.
Five of them, including Ravindra Jadeja, were part of the Indian Premier League (IPL) final in Ahmedabad which, because of rain, went into a third day and only finished at 01:35 local time on Tuesday – just eight days before the WTC final.
Without any warm-up matches, India will be hoping their players can quickly acclimatise as they transition from T20 cricket in India to Test cricket in England.
One man who has had plenty of time to acclimatise is batter Cheteshwar Pujara, who is one of the few top Indian cricketers who does not play in the IPL.
Instead, he has been captaining Sussex in the County Championship and has scored three centuries against the red ball at an average of 68.
The man of the moment, though, is undoubtedly Shubman Gill.
The 23-year-old, who watched Saturday's FA Cup final in London alongside team-mate Virat Kohli, was named player of the tournament in the IPL for his three centuries for Gujarat Titans.
For India, he has scored centuries in all three formats in the last six months.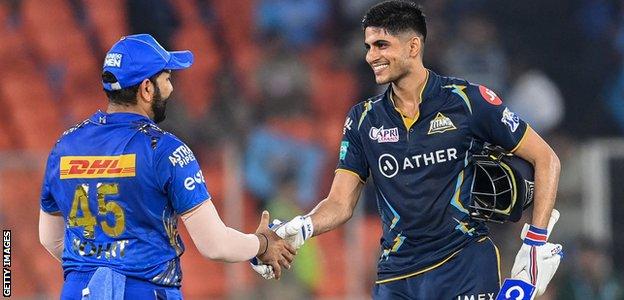 India, however, will be without both their leading fast bowler Jasprit Bumrah and iconic wicketkeeper Rishabh Pant because of injury.
They were further hit by the back injury suffered by stylish batter Shreyas Iyer earlier this year and then to opener KL Rahul, who suffered a leg injury in the IPL.
Rahul has been replaced in the squad by uncapped wicketkeeper Ishan Kishan.
Kishan will compete with Srikar Bharat to take the gloves. Bharat, who has played four Tests, is regarded as a better keeper.
"The selectors, captain [Rohit Sharma] and coach (Rahul Dravid) believe in tried and tested players," said ex-India wicketkeeper and BCCI general manager Saba Karim.
"This is a one-off so they would not like to risk playing someone with no Test experience. I had backed Kishan for the recent home series against Australia but Bharat was chosen.
"In England where the ball wobbles after crossing the stumps, it is experience that counts.
"After Rahul's injury I felt they should have chosen Wridhiman Saha as technically he is the best in India with the gloves.
"But now that the choice is between Bharat and Kishan, the team management will surely go for Bharat."
Bumrah has been plagued with back issues and had surgery in New Zealand in March. He has not played a Test match since July 2022.
Pant was lucky to escape with his life after being pulled out of his burning SUV following an accident in December. He is doubtful for the rest of the year.
The usual selection headache when India play abroad is whether to include two spinners in the playing XI – Jadeja and Ravichandran Ashwin – or just one to augment the pace bowling attack.
"If the Test was at Lord's I would have gone with three or four seamers and one spinner," said ex-India leg-spinner Laxman Sivaramakrishnan.
"But at The Oval where there is some bounce and turn in the second innings, two spinners are essential if you want to win a Test match.
"With both spinners being good batters as well, you will have five specialist batsmen and two all-rounders. That is the perfect balance."
Though crowds for Test matches have thinned considerably over the past two decades, interest in the Test team's progress is still high and is followed avidly.
India, which last year overtook China as the world's most populous nation, has more active smartphones than anywhere in the world, except China, and this has led to a surge of interest in the national team on handheld devices.
The World Test Championship, introduced by the ICC in February 2019, has considerably increased the following for Test matches and interest peaked as India tussled with Sri Lanka for the second spot in the final following Australia's qualification.
India have not won an ICC trophy since the Champions Trophy in England in 2013.
Ten years later, they have another chance in the same country.