Liam Manning has a smile on his face.
Having to deal with professional footballers knocking on his door asking why they aren't playing may seem an unenviable task, but he would happily have those conversations all day compared to taking calls from angry parents complaining about their child not being in his starting XI.
"Parents are 10 times worse!" he jokes.
Despite being just 38, the Oxford United boss commands a pedigree of 17 years experience in coaching, having started at the age of 21 after a short playing career.
Now a head coach at an established Sky Bet League One club, it was not always simple for Manning, who revealed the highs and lows of how he became a manager. He recalls his stint coaching for £2-a-session in his early days.
"I did a scholarship, played abroad for a year and had a tough six months," he says. "I came to terms with not achieving the dream of playing professionally. I was semi-pro earning a few quid, then doing evening coaching sessions – it was a way of making ends meet.
"I also did it because I just love coaching. I met a PE teacher and was asked to do some sessions with the girls at their school – that's how the story came about.
"I coached U7s, U8s, U9s, U14s, worked with day release, watched U18s. It's similar to the 10,000-hour rule – gaining the experience and putting in the hard yards to get better at coaching. All of these experiences made me the manager I am today."
During a coaching career that boasts time at West Ham U23s, Ipswich, Belgian side Lommel SK and MK Dons, it was Manning's spell in New York that really broadened his thinking – both on and off the pitch.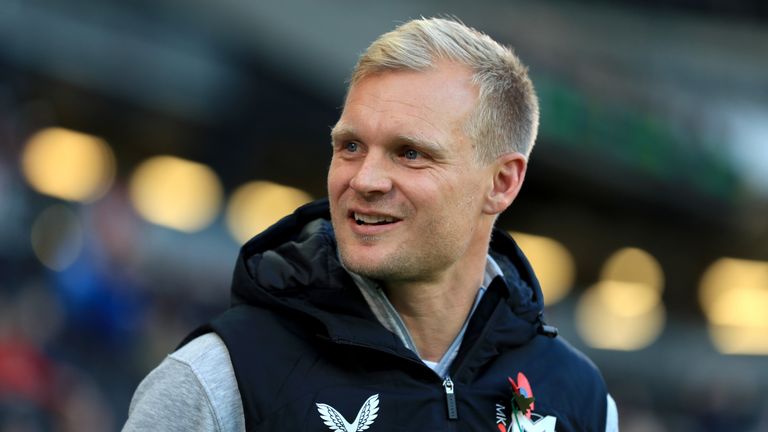 In April 2019, he was offered the position of Academy Director at New York City – part of the City Football Group (CFG), which would lead to his role at Lommel.
"I learnt a lot," he recalls. "I was extremely fortunate. The squad planning and the recruitment work has been important for me this summer at Oxford.
"Going to New York, some of the big stuff is the personal development – adapting to a new culture and environment. We had 42 nationalities in the academy, so it enhanced that skill set. It was a terrific experience and made me a better person and better coach."
In keeping the U's in League One last season, it was an opportunity for a reset this summer.
During the transfer window, the club brought in 11 new players, including former Chelsea academy product Josh McEachran and Notts County forward Ruben Rodrigues. In turn, they released 17 of their squad from last season.
With four wins from five in August, it appears the new group have settled in rather well, though Manning admitted it has been an interesting challenge for him and his support staff.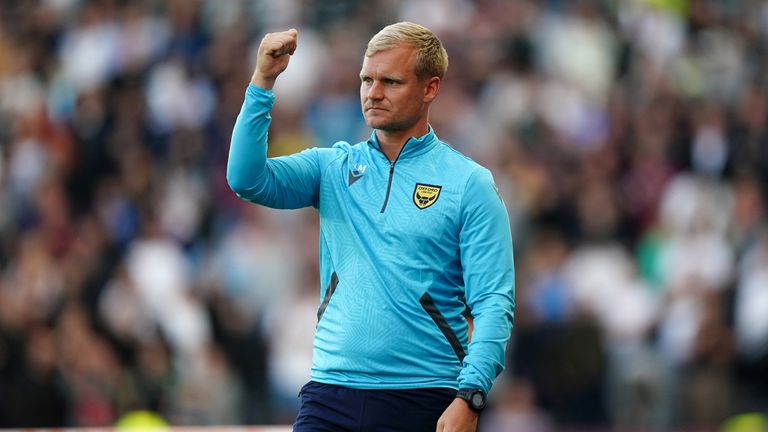 "The hardest part is getting the balance of the group right – whether that be age, experience or complimenting each other's strengths and weaknesses," he says.
"Finding out about player's characters isn't the easiest thing to do, but we operate on a person-first policy and there's been some terrific people that have come in this summer.
"The support staff have done a terrific job in getting the new players settled into their new homes. We had a family day in pre-season for the players, too. We put our partners through a lot of stress throughout the year and making them feel valued and part of it is equally important.
"We try to do a lot to understand the players so they can just go out and perform."
After former Oxford manager Karl Robinson lost his job in March, the task for any incoming boss was a daunting one, and widespread change was needed.
A run of seven defeats from eight left the club in a troublesome position, but Manning guided them to safety – with a change in mindset clearly a motivating factor.
"Culture and non-negotiables," explains Manning, when asked about the key message he promotes to his players. "We split it into three – the team first, certain values as a person and behaviours as a professional. It's not about me driving it, it's about everybody.
"We treat people properly, which you can still do in a high-performance industry. We constantly reference culture at the club. If you get those behaviours right, you can develop somebody who can do anything, not just football."
One player that has started extremely brightly for the U's is 20-year-old Tyler Goodrham. The midfielder, who has recently been called up to the Republic of Ireland U21 squad, is one of the ones to watch in League One over the next few months.
From scoring a screamer on his debut last season to netting another peach against Charlton this August, it is fair to say Goodrham has raw talent – something Manning is keen to harness.
"He has really high potential, but the challenge is flipping that into regular performances," says Manning. "That's the biggest aspect with young players when I've worked in youth development across my career. Players that produce high-level, 'wow' moments have to be undermined by really strong behaviours and basics – something Tyler has shown at a high level.
"Tyler is at a terrific stage where he's shown us what he can do. His character is infectious, he loves football and is driven by the right things. You can sit down and have an honest conversation, too, which will only continue his growth. The challenge is now to make sure he sustains this level over a long period."
Despite a disappointing defeat to Port Vale to start September, Manning will be extremely pleased with his side, who currently sit seventh in League One.
And with plenty of new names and exciting, young talent to choose from at Oxford United, it is evident those long nights in East Anglia as a 21-year-old coach are a fond, but very distant, memory.