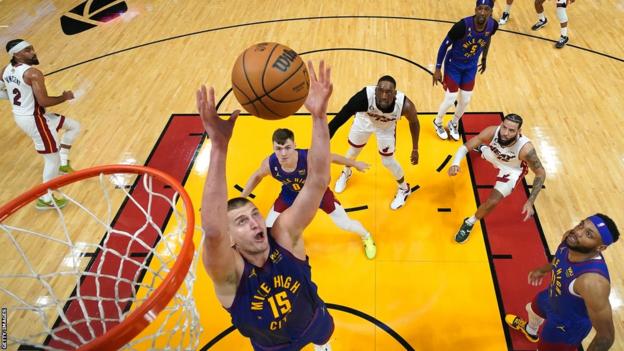 Nikola Jokic and Jamal Murray starred as the Denver Nuggets beat the Miami Heat 109-94 to take a 2-1 lead in the NBA Finals.
Jokic scored 32 points, becoming the first player to record 30 points, 20 rebounds and 10 assists in the Finals.
Murray finished with 34 points, 10 rebounds and 10 assists to complete his own triple-double in the final seconds.
The best-of-seven series resumes at the same venue, Kaseya Center in Miami, on Friday (01:30 BST Saturday).
Jokic and Murray are the first team-mates to post triple-doubles in the same Finals game, and the first to post 30-point triple-doubles in the same game at any stage of the season.
Nuggets coach Michael Malone described it as "by far their greatest performance as a duo in their seven years together".
"Nothing he does surprises me, ever," Malone said of Jokic. "The guy has shown over and over again that he's built for these moments.
"Jamal is a guy that thrives, lives and excels in the moment – never afraid of it. And you can't say that for a lot of players."
Jimmy Butler scored 28 points and Bam Adebayo claimed 22 points and 17 rebounds for the Heat, who at one stage trailed by 21 in front of a crowd containing five-time NBA champion Magic Johnson, footballers Neymar and Paul Pogba and singer Shakira.
The Nuggets – beaten 111-108 in Denver on Sunday – have never won the NBA Championship, while the Heat are hoping to become the first eighth seeds to triumph.