British heptathlete Katarina Johnson-Thompson clinches gold at World Athletics Championships in Budapest, finishing 20 points ahead of the USA's Anna Hall; 30-year-old picks up second World Championships gold after triumphing in Doha in 2019, completing recovery after injury-hit period
Last Updated: 20/08/23 7:00pm
Katarina Johnson-Thompson has clinched heptathlon gold at the World Athletics Championships in Budapest.
The 30-year-old's final score of 6,740 points was 20 more than Anna Hall of the United States. The Netherlands' Anouk Vetter claimed bronze.
The Brit has endured a tough few years, punctuated by injury and frustration, since her last world title win four years ago, and her title success completes a remarkable recovery.
"It's so easy to run when there's something on the line," Johnson-Thompson told the BBC.
"I've committed to getting my heart broken again, but this time I didn't."
Meanwhile, Zharnel Hughes clinched bronze in the 100m final. Noah Lyles won gold, while Letsile Tebogo secured silver.
Hughes becomes the first British man to win an individual 100m sprint medal at the worlds in 20 years – since Darren Campbell's bronze in 2003.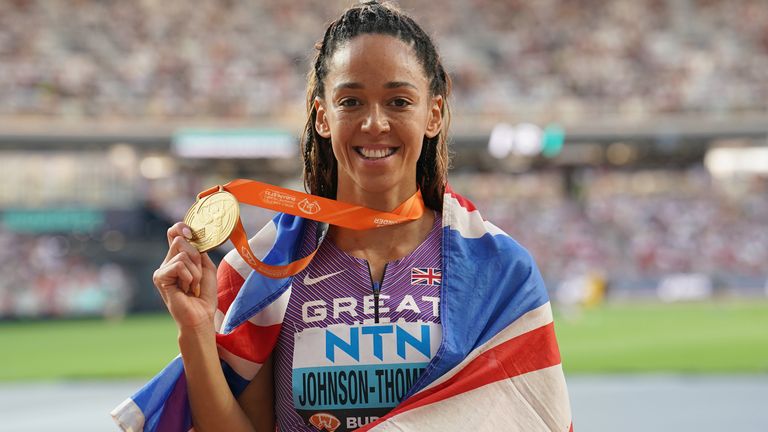 KJT completes road to recovery
Coming off the back of her 2019 world title, Johnson-Thompson was ready for another showdown with Nafi Thiam. The Belgian won Olympic gold in Rio but was defeated by KJT in Doha as the Brit set four personal bests.
She was in the form of her life and their battle was poised to be one of the best of the Games – only for the Covid pandemic to strike and the Olympics were postponed for 12 months.
Johnson-Thompson suffered a serious Achilles injury in December 2020 which left her fearing for her career. Just eight months ahead of the Olympics it left her hopes of making Tokyo in doubt.
"Covid, my Achilles injury and then the injury in Tokyo were three major things which made it feel like the universe was telling me to stop," she said.
The 30-year-old recovered in time to make the delayed Olympics in Japan and was fifth going into the final event on day one, the 200m. Yet she was struck by another massive blow when she injured her right calf with around 50 metres left.
She refused a wheelchair and limped to the finish – stating she started her year in a wheelchair and did not want to end it in one.
Johnson-Thompson arrived at the Worlds in Oregon last year as the defending champion but there was never any expectation she would retain the title. She was sixth after day one, trailing Thiam by over 300 points, despite a gutsy effort.
A frustrating 6.28m in the long jump dropped her to seventh while she was unable to improve her place in the javelin and 800m to ultimately finish eighth.
Having pulled out of the pentathlon at the World Athletics Indoor Championships earlier in the year, Johnson-Thompson came from Eugene straight to the Commonwealth Games in Birmingham.
Her 2018 Gold Coast victory was the start of her trajectory and foundations for her Doha victory.
Despite her previous injury problems she was still expected to retain the crown and she did with a measured performance to finish 144 points ahead of Northern Ireland's Kate O'Connor, while her victory in Budapest has completed her recovery to the top.