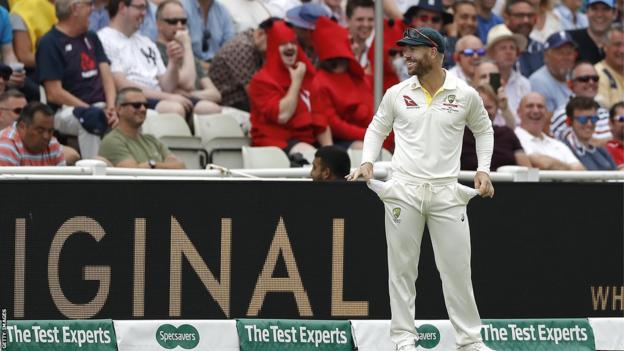 Dates:
7-11 June
Venue:
The Oval
Coverage:
Live commentary on Test Match Special through BBC Sounds and Radio 5 Sports Extra, live text commentary with in-play clips on the BBC Sport website
"I'll always play along, it's how I've always been. If they are going at me, I'm obviously doing something well."
There are few Australians who relish the white-hot battle of an Ashes series more than David Warner.
The 36-year-old opener is pantomime villain-in-chief among England fans, stretching back to his altercation with Joe Root in a Birmingham bar in 2013 and further fuelled by his involvement in the 2018 ball-tampering scandal.
But as a veteran of more than 100 Tests including six Ashes series, three of those resulting in victories, it is a role he is more than happy to fulfil.
"It takes a lot of pressure off the other players," he told former England international and BBC presenter Isa Guha.
"When you're out there and you have that behind you, you do hear it. But for me I'm almost walking out there with a smile on my face because I know they're worried.
"They're trying to put me off my game. And if they keep coming at me that's fine. It doesn't bother me, I'll keep going out there. I've got the best seat in the house to watch the game so all I can do is sit back, smile and try to score runs."
First for Australia though is the World Test Championship final against India, beginning at The Oval on Wednesday, which for Warner is more than just an Ashes tune-up.
"It would mean a lot, as a team we've played some good cricket over the last 18 to 24 months," he said.
"I'm really looking forward to it: Dukes ball, both teams firing, playing against each other here in England. It's going to be exciting."
'Ultimate respect' for rival Broad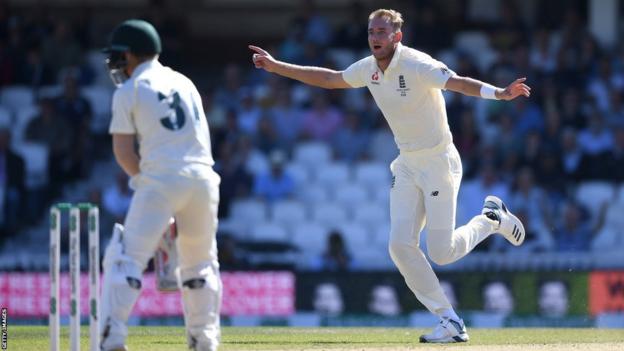 After meeting India at The Oval, Australia head to Edgbaston for the first of five Ashes Tests. The first match is on 16 June.
It's a contest Warner relishes – especially his rivalry with nemesis Stuart Broad.
The England pace bowler has dismissed Warner 14 times in 26 Test matches since they first faced each other in 2013, more than any other bowler.
"The rivalry in general has been fantastic, I've enjoyed it," said Warner. "He's a world-class bowler, a world-class competitor and he's a good bloke.
"We're there because we love the game and we love the rivalry but we all bring the best out of each other and I don't think you have longevity in the game if you're not competitive as well.
"So I think he always brings that and I've got the ultimate respect for him."
England were well beaten 4-0 in the last Ashes series down under in 2021-22 but the side has been revitalised under captain Ben Stokes and coach Brendon McCullum, deploying a fearless, attacking brand of cricket that has yielded 11 wins and just two defeats in 13 Tests.
"I like their commitment. They keep talking about it, acting on it, doing it," said Warner. "I think the only test comes when you get bowled out for 200, but you're going to have those days when you're playing like that.
"If they lose the first two Tests and they don't bat well, batting that way, do they change or do they not? I think that's the only question.
"From our point of view we won't be doing anything different, that's for sure."
'Fighter' Warner on his Australia legacy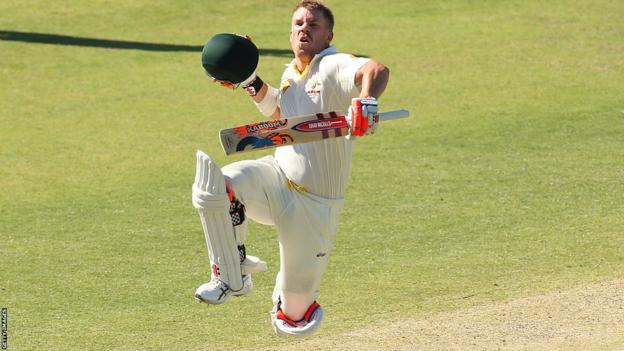 Warner turns 37 later this year so this summer is almost certainly going to be his final Ashes series and he has already indicated he will call time on his international career at the start of 2024.
So how would he like to be remembered by England fans?
"I just want to be remembered as a fighter, as a player who started his career playing T20 cricket, not thinking I'd ever open the batting for Australia in Test cricket, and playing all three forms," said Warner.
"I was never an academic, I was never smart. I just learnt how to work hard from a young age so I think that's why I'm mentally strong as well. You've got to go through some hard times to really understand how to deal with certain situations.
"I'm a very family-orientated person. I absolutely love them and adore them.
"I'm actually, deep down, a caring person. So I reach out to anyone out there who wants to have a beer with me.
"If you get the opportunity to sit down with me, we can talk cricket, we can talk anything. I'm always up for it.
"What you see on the field is what you see. I think in my past I've had those experiences where I've clashed with people on the field, I've made some mistakes in my time.
"But deep down I think I'm a good person and I've enjoyed my career to date so hopefully I've put some smiles on people's faces watching the game of cricket and hopefully I can sort of leave that bit of a legacy behind."