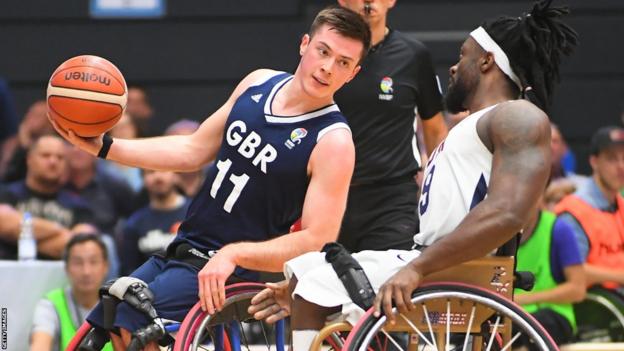 Great Britain wheelchair basketball co-captain Phil Pratt says he is in a "happy place" before the World Championships, which begin in Dubai on Friday.
Over recent years, Pratt has had to deal with various on and off-court issues from long-time team-mate and friend George Bates being ruled ineligible to continue playing the sport to family illness.
It took its toll on the 29-year-old Welshman, leading him to make the decision to take a break and miss out on the Tokyo Paralympics where GB won bronze.
"I just wasn't in a good spot," he told BBC Sport. "Since I was 18 or 19, I just had no time to just be Phil Pratt from Cardiff. It was just about the next tournament and the next and with the club season as well and I just crashed.
"I didn't feel like me so I had to take a step back.
"Also my grandfather died around that time. He was like a second dad to me and was there for me when I got ill as a child and became disabled, so I felt like as he was there for me for my toughest time, I had to be there for his.
"I definitely don't regret my decision and I am proud of myself because it was a tough one for me and my family to make.
"Not being in Tokyo and watching from the outside was weird and it was tough watching them lose in the semi-final to the USA, who went on to win gold.
"I think if I had been there I could have helped them get over the line but it has made me more motivated than ever to be part of the group and get us to win the Worlds and the Europeans later this summer and hopefully do something special at the Paralympics next year.
"Gold medals are incredible but spending time with loved ones and taking care of your mental health comes above everything."
Coaching changes
The GB men go into the tournament, which was due to be held last year but was pushed back because of the football World Cup, as defending champions, while the women took silver in the 2018 event in Germany.
Both teams have seen coaching changes since Tokyo with Miguel Vaquero Maestre taking over the women's team and Canadian brothers Bill and Joey Johnson now with the men in place of Haj Bhania.
The men start on Saturday against Iran, who they beat in the last four in 2018, and follow up against Iraq (12 June) and the USA on 14 June.
The women also begin on Saturday against Spain before Brazil (11 June), China (12 June), Canada (13 June) and Australia (16 June).
It is a busy period for both teams with the European Championships to come in August in the Netherlands where the first Paralympic qualification places will be up for grabs.
And Pratt, who became a wheelchair user aged four after contracting transverse myelitis, an inflammation of the spinal cord, knows the pressure is on his side as holders.
"We know we have a target on our back as world champions and everyone plays well against us, but it still feels like we are underdogs, having only won bronze in Tokyo," he said.
"Our new coaches have been unbelievable so far. They haven't completely changed what we are doing – just added to it. Haj gave us a solid core and a great base but we have some very quick players and are now trying to make more of that.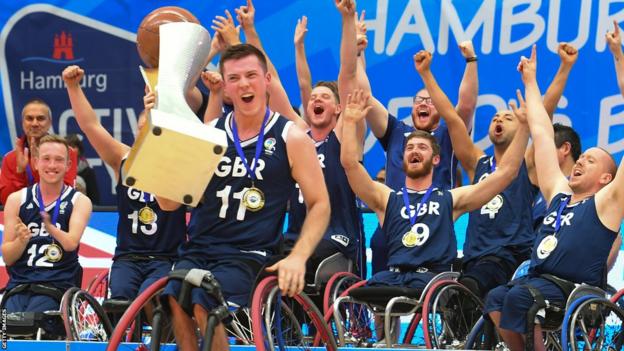 "I think this is the most open World Championships for a long time. Before you might have said only two or three teams could win, but this time there are maybe six teams who believe they can take gold which is great and shows how much the sport is developing."
Pratt is coming to the Worlds having enjoyed a successful season in Spain with his club Amiab Albacete, winning back-to-back Spanish League titles and retaining the EuroCup Champions Cup along with international team-mates Harry Brown, Ben Fox and Lee Manning, as well as Charlotte Moore from the women's team.
Building those relationships is key for Pratt, who won Paralympic bronze in 2016, with life away from the court is as important to him as what happens on court.
"We have a great group of guys and there are a lot of familiar faces so everyone knows what everyone else needs," he said.
"I like to get away and do a bit of gaming, some of the others like to go and grab a coffee together but everyone buys into the bigger picture of getting your mental health in a good spot so you are able to perform at the highest level when you get onto the court and we have some world-class sports psychologists helping us as well.
"I am definitely in a happy place now, although it took me time to adjust after I came back, but I am as motivated as ever to get back on top of the world again."