Great Britain's Matthew Hudson-Smith was left frustrated as he settled for silver in the men's 400m final at the World Athletics Championships in Budapest; Jamaica's Antonio Watson claimed gold after overtaking Hudson-Smith down the home stretch.
Last Updated: 24/08/23 9:55pm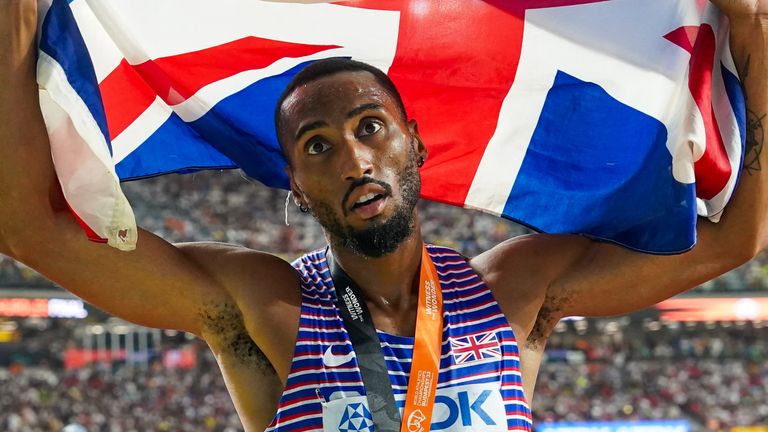 Great Britain's Matthew Hudson-Smith won silver in the men's 400m as Jamaica's Antonio Watson raced to gold at the World Athletics Championships in Budapest on Thursday.
Hudson-Smith, who won bronze at the 2022 World Championships, took the initiative to lift the pace at the halfway mark and led down the stretch before being pipped in the closing stages as he crossed the line in 44.31.
Watson, who just moments earlier had seen Jamaica's Danielle Williams storm to victory in the women's 100m hurdles, nailed his race plan to hunt Hudson-Smith down and clinch gold with a winning time of 44.22.
Quincy Hall of the United States finished third in 0:44.37, with 2012 Olympic champion Kirani James in fifth and 2016 Olympic champion Wayde van Niekerk in last.
Hudson-Smith, who had been battling Achilles tendonitis since May which threatened his hopes of competing in Hungary, struggled to hide his frustration.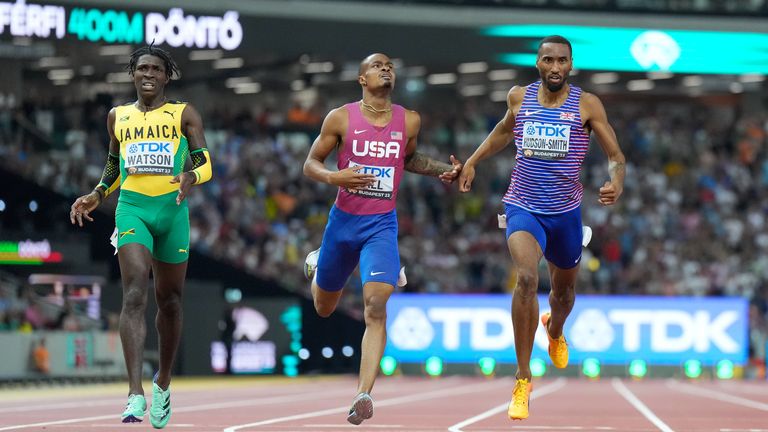 "I came here looking for gold," said the double European champion. "You are never satisfied, you're always going to want more. Even when you look back and go: 'what if?' I'm grateful but I know there's more.
"It's been a topsy-turvy year. I've had Achilles tendonitis really badly so that's why I've been pulling up, that's why I've been in a wheelchair in London (Diamond League). Sometimes I can't walk, sometimes I can.
"My Achilles has been mashed up bad. This has been like a mental battle. I came for the gold, tired up (in the) last 30 (metres) but under the circumstances I can't complain.
"It was do or die. I tried to find a gear but that's what happens when you don't really have races. I found an extra gear in the semi-finals but it's not there yet. I'm going to finish off the season, aim to get 43 (seconds), finish off strong."
Last year, immediately after winning world bronze in Eugene, the Wolverhampton runner revealed he struggled with his mental health to the point where he tried to take his own life.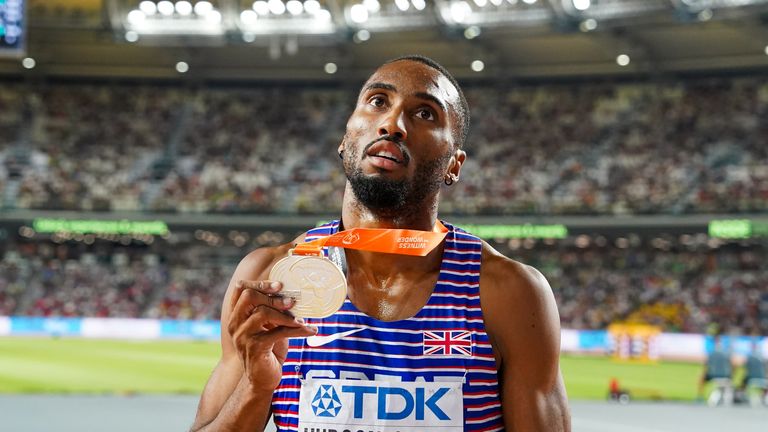 A little more than 13 months on and Hudson-Smith can call himself one of the world's best, ahead of next year's Olympics in Paris.
He had set a new personal best of 44.26 seconds in the semi-final, breaking a 36-year-old European record in the process.
"Next year, we've got big plans. I've just got to stay healthy," said Hudson-Smith.
"That's the moral of my story in my career, to stay healthy but we're getting there. It's just building consistency. Once I'm there, it will be 43s and golds."
He added to the British medals after golds for Katarina Johnson-Thompson and Josh Kerr in the heptathlon and 1500m respectively and Zharnel Hughes' 100m bronze.
Earlier on Thursday, Ben Pattison reached the 800m final but Max Burgin and Daniel Rowden failed to progress while Jamaica's Danielle Williams claimed the women's 100m hurdles title with the Netherlands' Femke Bol winning the women's 400m hurdles.