Sergio Perez has lost 47 points to Max Verstappen from the last three F1 races, failing to finish on the podium in Monaco and Spain; meanwhile, Verstappen has notched up a hat-trick of wins; watch the Canadian GP from June 16-18 with all sessions live on Sky Sports F1
Last Updated: 12/06/23 4:03pm
Sergio Perez said he should be leading the championship after beating Max Verstappen in a straight fight at the Azerbaijan Grand Prix in April.
Perez was just six points behind his Red Bull team-mate but his victory was a big moment because it was the first time he had got the upper hand on Verstappen when there was no bad luck involved, no team strategy errors all weekend and no reliability troubles.
Fast forward three races and Perez finds himself 53 points adrift of Verstappen ahead of this weekend's Canadian Grand Prix live on Sky Sports F1.
Last time out in Spain, Perez was eliminated in Q2 as he struggled with getting the tyres into the optimal operating window on a drying track, but recovered to take fourth place.
"We minimised the damage. It's a weekend where I don't understand what went wrong because I generally felt we were not quite there. Hopefully it's something we can solve for Canada," Perez told Sky Sports F1.
Meanwhile, Verstappen completed a rare Grand Slam of topping every practice session, taking pole position and leading all 66 laps on his way to victory, underlining his status as the driver to beat in F1 right now.
How has Perez's title challenge collapsed?
When Perez started from pole at the Miami GP and Verstappen was ninth, after Charles Leclerc caused Qualifying to come to an anti-climatic end by crashing at the end of Q3, the championship lead was on.
However, Verstappen romped through the field and overtook Perez with 10 laps remaining, which would have been a big mental blow to the Mexican.
Perez tends to perform better on street tracks, so was looking to bounce back in Monaco. But his hopes fell apart almost immediately when he crashed at Turn One on his first flying lap in Q1.
Monaco is by far the most difficult track to overtake at and Perez proved that fact by getting caught up in incidents and was lapped twice by Verstappen on his way to 16th.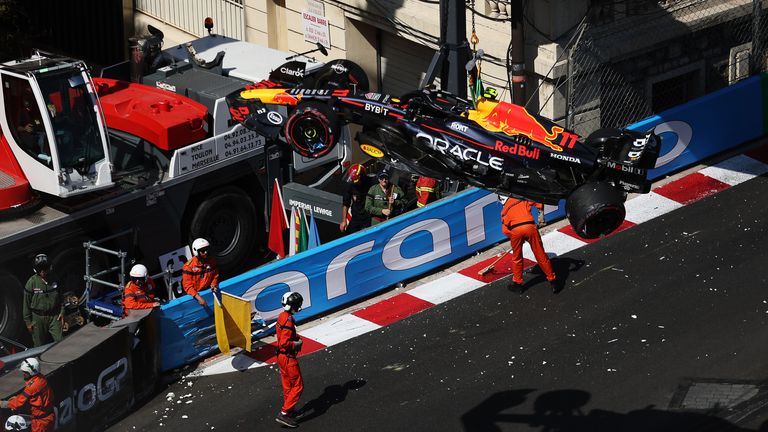 A week later, Perez was off the pace all weekend at the Circuit de Barcelona-Catalunya and struggled in Qualifying on a drying track, so was eliminated in Q2 as Verstappen took pole.
He recovered to fourth place, but dropped more points and the last three events have shown the difference between the Red Bull drivers.
Horner: No driver would beat Verstappen right now
Verstappen could become the joint-fifth most successful F1 driver, along with Ayrton Senna, in terms of race wins if he is victorious at this weekend's Canadian GP. Only Lewis Hamilton, Michael Schumacher, Sebastian Vettel and Alain Prost would have stood on the top step of the podium more times.
Red Bull team principal Christian Horner thinks every driver would find it difficult against Verstappen, and Perez will soon "re-find" the form that saw him win in Saudi Arabia and Azerbaijan.
"If you look at the points, there's a big split between the two of them, if anything that will take the pressure off him [Perez]. He has nothing to lose now," Horner told Sky Sports F1.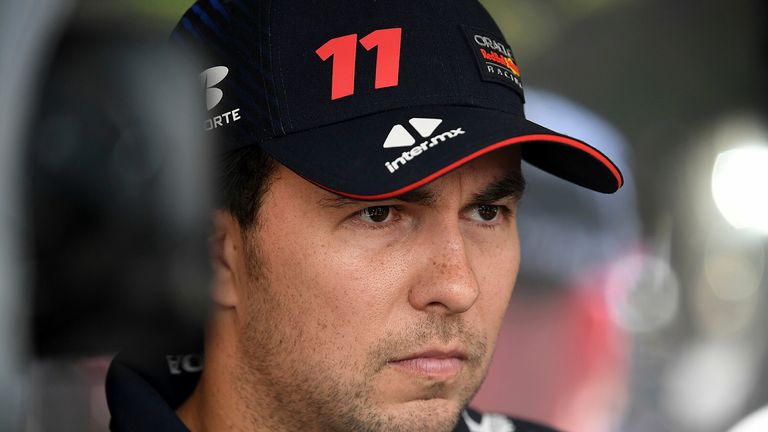 "He just needs to relax, he can breathe out, and drive like we know he's capable of like he did in Azerbaijan and some of the races earlier this year. Barcelona was a good recovery from him and that will give him confidence heading to Montreal."
Horner continued: "There is not a driver out there today who would beat Max in that car [in the form he is in]. He [Perez] is up against a driver at the top of his form and that's very tough.
"Mentally, it's a really tough thing to deal with. But the points now may take away the pressure a little and the pressure he puts on himself."
Rosberg: Sometimes you can't explain downturn in form
There were suggestions Perez could replicate what Nico Rosberg did in 2016, when the German beat team-mate Hamilton in one of the most intense seasons in recent history.
Valtteri Bottas replaced Rosberg when the latter shocked everyone by retiring five days after he became world champion. Bottas was discussed in a similar manner to Perez during his times at Mercedes between 2017 to 2021 – challenging Hamilton early in the season and winning some races, but never seen as a serious threat over a long period of time.
Rosberg cannot explain why Perez has been below par since Miami and says the 33-year-old needs perfection from now on to stand a chance against Verstappen.
"It went away in the last three races. In Miami, his pace was very poor all weekend and Max beat him coming from way back. In Monaco he chucked it away himself, although he was really on it, and in a time in Qualifying when it wasn't crucial. In Barcelona, probably not as a fault of his own, but struggling with his tyres [in Qualifying]," Rosberg said.
"But still, a lack of performance again and if you want to fight Max Verstappen in the championship you have got to have a perfect year and put everything together. He needs to find a way to turn things around because it's slipping away from him."
He added: "It's one of those things in sport. Sometimes you can't explain it and go into these negative momentums. That's the nature of sport and you have to minimise that as much as possible, which he is not doing at the moment.
"Maybe the buzz that he created himself of thinking about the championship, maybe that was not the right approach because it creates a dynamic that is not necessary. Maybe he should just focus on race by race, try to get the most from each weekend. That could potentially be better."
Sky Sports F1's live Canadian GP schedule
Friday June 16
6pm: Canadian GP Practice One (session starts at 6.30pm)
7.45pm: The F1 Show
9.45pm: Canadian GP Practice Two (session starts at 10pm)
Saturday June 17
5.15pm: Canadian GP Practice Three (session starts at 5.30pm)
8pm: Canadian GP Qualifying build-up
9pm: Canadian GP Qualifying
11pm: Ted's Qualifying Notebook
Sunday June 18
5.30pm: Grand Prix Sunday Canadian GP build-up
7pm: THE CANADIAN GRAND PRIX
9pm: Chequered Flag Canadian GP reaction
10pm: Ted's Notebook
F1 returns in Canada from June 16-18 with all sessions live on Sky Sports F1, including race coverage from 5.30pm on Sunday June 18