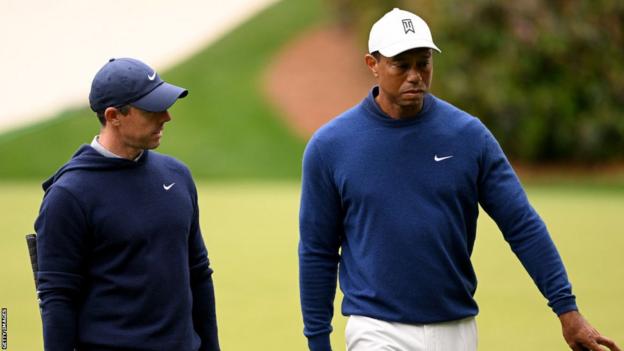 When the email dropped it was like reading an April Fools' Day spoof, so far-fetched was the notion of the established golf tours harmoniously joining forces with the breakaway LIV circuit.
After unprecedented rancour, mudslinging, litigation and burned friendships, the PGA and DP World Tours accepted they were better together with the Saudi Arabian Public Investment Fund (PIF).
It is an extraordinary about turn but there are billions of reasons why. Many observers will conclude the Kingdom has now bought men's professional golf.
Critics of its human rights record regard the deal as another tawdry extension of sportswashing.
This is a commercial deal bringing the tours under the same umbrella as LIV, which shook up the men's game like never before when it came into being a year ago. They will be unified in seeking profits.
The tours themselves will continue with their 2023 schedules, but the new commercial reality means future calendars will be heavily altered. While there is now peace between rival factions, there will still be plenty of turmoil ahead.
Many players are furious after staying loyal to the established tours by turning down lucrative offers to go to LIV. What Tiger Woods and Rory McIlroy – the faces of the the PGA Tour's fight with LIV Golf's chief Greg Norman and co – make of this will be fascinating.
The fact neither figure knew of the deal being brokered is another extraordinary facet in this stunning development.
PGA Tour commissioner Jay Monahan revealed it was seven weeks in the making and involved only a tight-knit group of officials. "There were four in-person meetings and a number of video calls and phone conversations," Monahan said.
"When you get into these conversations and given the complexity of what we were dealing with, it's not uncommon that the circle of information is very tight."
The new company will be chaired by PIF governor Yasir Al-Rumayyan, with Monahan as chief executive and an executive committee that will include PGA Tour policy board chairman Ed Herlihy and board member Jimmy Dunne.
According to Monahan it was Herlihy and Dunne who were involved in the initial talks to broker the deal. Less than two months later Monahan was sharing a television studio couch with his new business partner Al-Rumayyan.
The PGA Tour commissioner's change of direction is astonishing given his criticism of the Saudi regime when LIV was regarded as a hostile "existential threat" to the US circuit.
"I recognise everything I've said in my past positions," Monahan admitted. "I recognise people are going to call me a hypocrite. Anytime I said anything, I said it with the information I had in the moment."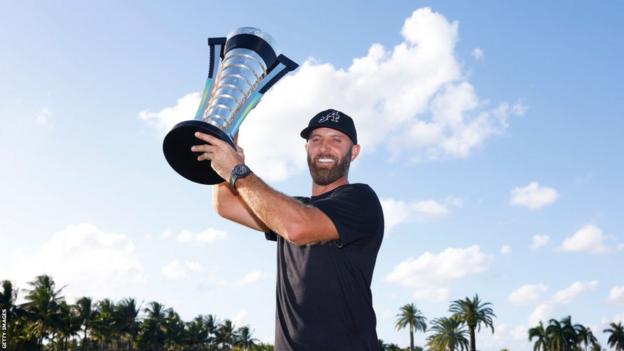 He now has to win over his players and formulate a future that includes the DP World Tour, which has to stall its plans to reveal a revamped 2024 schedule.
Right now, no-one knows how that will look across the golfing globe. Somehow the competing interests of the three circuits involved have to be accommodated, and the European tour will do well not to feel further marginalised.
It has no board representation with the new entity, although chief executive Keith Pelley says he is confident that will change.
Monahan has recognised the potential for team golf, which is at the heart of the LIV project. It want its line-ups to attract billionaire investment in the way cricket's Indian Premier League has done.
With peace declared, potential scope for interchangeability between circuits and more substantial television deals, the LIV team concept could become a lot more attractive.
It is also a bonus for all sides that legal proceedings against each other have ceased. The process of discovery was not attractive for LIV and the cost implications for the PGA Tour were also significant.
The deal also potentially eases pressure on the Ryder Cup. It will, surely, be easier to accommodate last month's US PGA Championship winner Brooks Koepka and other leading lights from LIV in the US team.
Frameworks to reintegrate those who jumped ship are being worked out. They will no doubt involve financial penalties and in Europe's case the punishments deemed fair and proportionate by an independent arbitration panel in April will stand.
But the fact the two sides are no longer at war should make it easier for the likes of Lee Westwood, Ian Poulter and Graeme McDowell to rejoin the tour and regain a chance of future Ryder Cup roles.
LIV frontman Norman – such a big player in these golf wars – was absent from the announcement. It has been reported in the US that he is unlikely to be involved in the new partnership.
"A great day in global golf for players and fans alike," the Australian former world number one tweeted. "The journey continues."
But whether Norman will be on board remains to be seen. Both Woods and McIlroy – who is due to speak at about 15:00 BST on Wednesday before defending his Canadian Open title this week on the PGA Tour – said they could only do business with LIV if its commissioner stood down.
As Monahan stated, "circumstances change" and it seems they will continue to evolve at a rapid rate in the coming days and weeks. His next challenge is to win over his players – they are tour loyalists but their loyalty to him is being tested.