Watch How to win the Ashes on BBC iPlayer from Wednesday, 7 June. Each day, a new podcast will be available on BBC Sounds featuring interviews with the likes of James Anderson, Mitchell Johnson, Ben Stokes and Steve Smith.

The Ashes is one of the fiercest rivalries in sport, producing some unforgettable cricketing moments across the decades.
But what does it take to lift the famous Ashes urn?
That is the subject of a new BBC documentary, How to win the Ashes.
Featuring in-depth interviews with cricket legends, the documentary relives some of the on-field heroics which captured a nation's imagination, as well as lifting the lid on some behind-the-scenes turmoil.
Here are just a few takeaways.
Australia sang victorious team song in England's Lord's changing room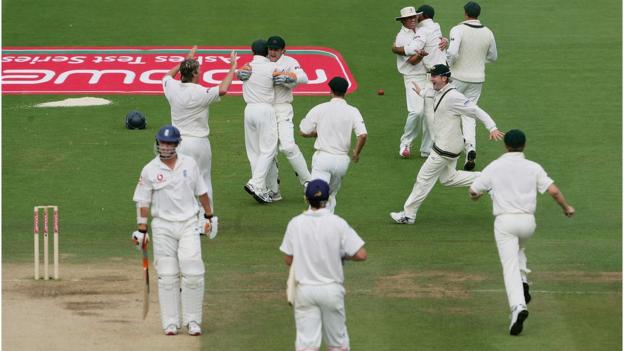 The Australia side that toured England in 2005 was one of the greatest sporting teams of all time, featuring a dazzling array of world-class talents such as Ricky Ponting, Shane Warne, Glenn McGrath and Adam Gilchrist.
England, meanwhile, had not won the Ashes for 18 long years going back to 1987, losing eight successive series. But England's class of 2005 thought this was their time.
Those hopes appeared misplaced after a thumping 239-run defeat in the first Test at Lord's, sparking scenes of jubilation among the Australia players, who even took their celebrations into the England dressing room.
"As is our way we stayed forever in our changing rooms and celebrated. Probably to the point where we were looking for different things to do when we celebrated because, without sounding too arrogant, we were doing it a lot," said wicketkeeper-batter Gilchrist.
"When it came to singing the team song, [batter] Justin Langer led us down from one end of the Lord's Pavilion down to the other and into the English changing room, which they had cleaned out by that stage.
"We did the team song down in their room."
Flintoff nearly lost his England cap to a policewoman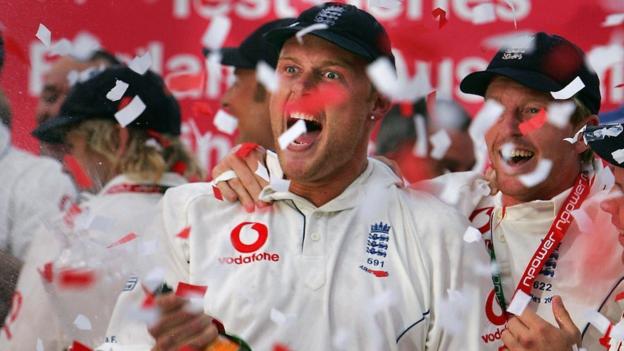 Those Australia celebrations proved premature as England hit back to reclaim the urn in what is considered one of the most thrilling Ashes series of all time.
The poster boy for England's success was Andrew 'Freddie' Flintoff, who was named man of the series and became a national hero.
"I realised it was really cutting through when my Auntie started talking to me about Freddie Flintoff," said BBC Radio DJ and host of the Tailenders cricket podcast Greg James.
Flintoff was now one of the most recognisable faces in the country, who was in demand everywhere he went – even from the police.
"Can I have your hat Freddie," politely asked a policewoman as Flintoff clutched the Ashes urn on the Oval pitch.
"No it is my England cap, sorry," was the equally polite reply.
England's 'horrific' team meeting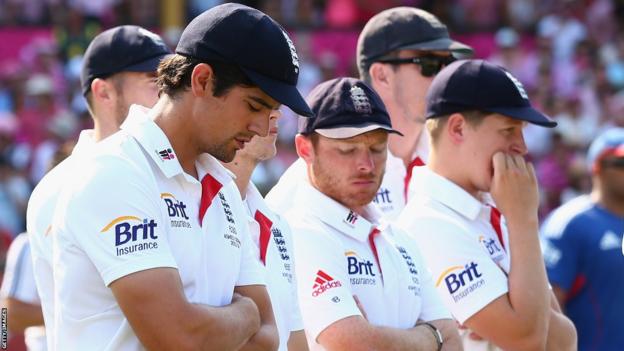 Fast-forward to 2013 and England travelled down under full of confidence having won four out of the previous five Ashes series.
But things quickly began to disintegrate against an Australia side desperate for revenge and containing pace bowler Mitchell Johnson at his hostile best.
After two heavy defeats in the first two Tests, coach Andy Flower held a team meeting to try and boost morale and get to the heart of England's problems before the third Test in Melbourne.
It did not work.
"Flower said 'we are going to go around the room and everyone can explain what is going on'," said opener Michael Carberry. "The finger pointing was horrific.
"That was almost the slow puncture of the tour. The mood just went flat. The team was just completely gone. You were out there on your own."
'I was in a fair amount of pain'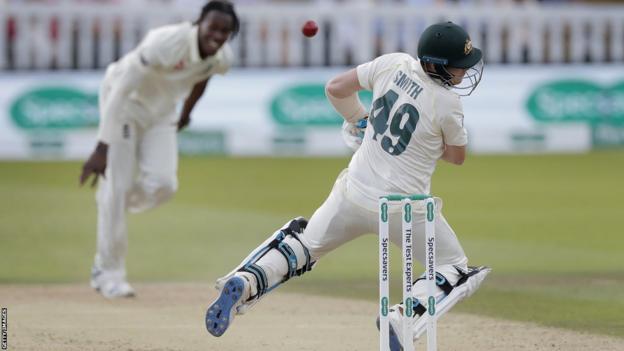 Steve Smith gave a fascinating insight into what it is like to be involved in one of the most thrilling one-on-one battles in recent Ashes history, as he and pace bowler Jofra Archer went head-to-head at Lord's in 2019.
Smith had already been smacked on the arm with one particularly nasty delivery before another ball clattered him on the neck, forcing him off the field.
"I was in a bit of shock to begin with," he said. "I think the adrenaline was still running and I just wanted to carry on batting."
After a brief break, Smith, remarkably, was able to return to the middle – though he was far from comfortable.
"I just wanted to score as many runs as I could, as quickly as I could, because I was in a fair amount of pain," he added.
Smith ended with 92 before succumbing to concussion in England's second innings. He was replaced in the match by concussion substitute Marnus Labuschagne.
Stokes would swap Headingley 2019 for a series win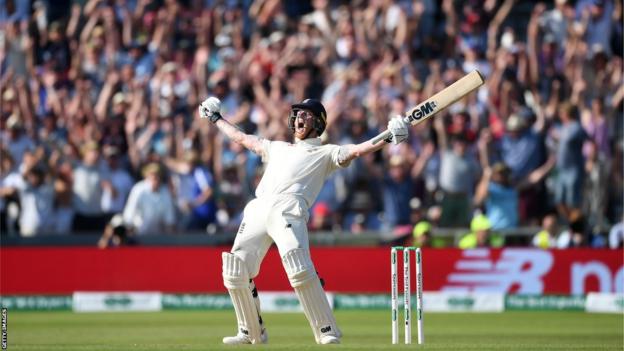 Say 'Headingley 2019' to any cricket fan and they will reply with one name: Ben Stokes.
The all-rounder single-handedly dragged England from the brink of defeat to glorious victory with what is viewed by many as the greatest innings in Test history.
The remarkable win levelled the series at 1-1 and kept England's Ashes hopes alive, but the eventual 2-2 draw meant the urn would remain in Australian hands.
For Stokes, his Headingley heroics meant his status as an English sporting icon was assured – but the Durham all-rounder revealed he would happily sacrifice all that individual glory for the ultimate prize.
"I would swap it all," he said. "That Headingley game, that Headingley moment… I would swap it all to say that we won that series."