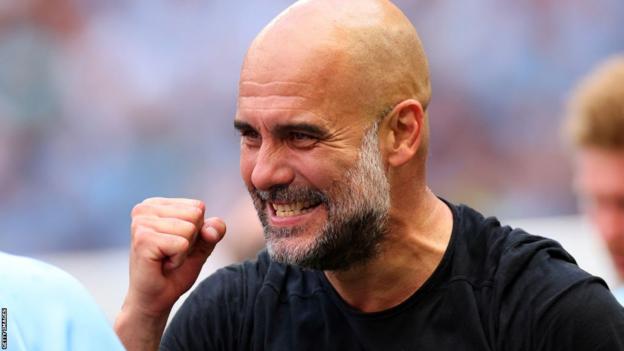 Manchester City are just one game away from joining city rivals Manchester United as the only English teams to win the Treble.
Sir Alex Ferguson's United became the first team from this country to win the Premier League, FA Cup and Champions League in the same season in 1998-99.
And now Pep Guardiola's City will join them – securing him a second Treble after achieving it with Barcelona in 2009 – if they beat Inter Milan in Istanbul on Saturday. But how do they compare?
Former Brighton striker Glenn Murray told BBC Radio 5 Live: "They are better than the Manchester United Treble-winning team of 1999. And I say that reluctantly as I was a United fan as a kid. That generation I looked up to, and it seems that feat would never be repeated.
"But this City team are deadly. They beat people and move on. They are an emotionless winning machine. Nothing bothers them.
"They will put their feet up and enjoy themselves when they have proved that they are what most people think they are and that's one of the best club sides we have ever seen."
What do you think? Do you agree? Pick your combined XI below from Man Utd's Treble winners and Man City's Treble chasers and share the results with your friends.
Pick your combined XI between Manchester United Treble winners of 1999 and this season's Man City Treble chasers.
Guardiola's second Treble?
City's Premier League title win in 2019 earned them a historic domestic treble, as they became the first English men's team to win the top-flight league as well as both cups.
But, while a hugely impressive achievement, winning the league title, FA Cup and European Cup is considered by many to be the holy grail.
Guardiola's men are only one game away from becoming the 10th European side to sweep the board.
City's date with destiny in Istanbul comes 14 years after Guardiola led Barcelona to the Treble in 2008-09, in what was his first season as a manager of a top-flight club.
In 1966-67, Celtic became the only team win the Quadruple – including a League Cup success – while the other Treble winners are Ajax in 1972, PSV Eindhoven in 1988, Inter Milan in 2010, Bayern Munich in 2013 and 2020 and Barcelona in 2015.
Is this City side better than Pep's all-conquering Barcelona of 2009? Pick your combined XI below.
Pick your combined XI between Guardiola's Treble winners of 2009 and this season's Man City Treble chasers.