Pep Guardiola is finally ready to talk about the treble after Manchester City saw off Manchester United with a 2-1 win in the FA Cup final at Wembley.
Two volleys from Ilkay Gundogan, the first of them coming after just 12 seconds, allowed the Premier League champions to complete the domestic double.
With Inter awaiting Manchester City in Istanbul next Saturday, the opportunity is there to match Manchester United's historic feat of 1999.
"Now is the first time we can talk about the treble," Guardiola told the BBC. "Against United, it was special for our city, for our fans. We performed really well. Really, really well. I am so pleased."
Elaborating in the press conference afterwards, Guardiola stressed that his team needs to beat Inter to earn the recognition they deserve.
"We have done incredible, five Premier Leagues, two FA Cups and Carabaos but we have to win the Champions League to be recognised how the team deserves to be. It has been amazing, been fun, but we have to win it.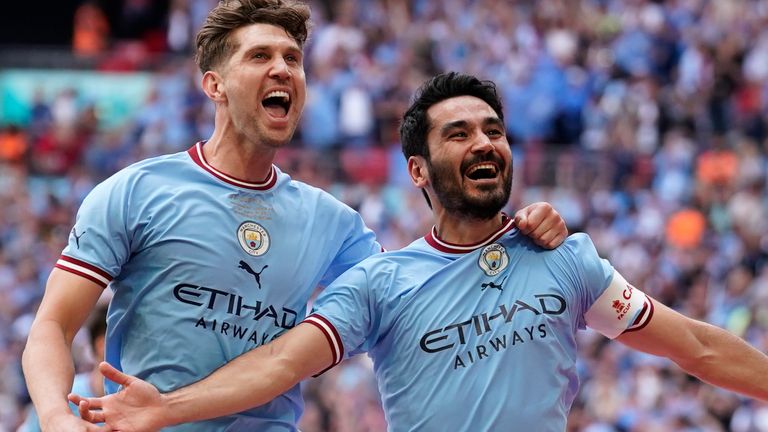 "We are one game away. I said to the players you have to put the pressure on yourself. To be recognised as something good you have to win Europe."
Gundogan, City's captain, was the hero and Guardiola paid tribute to a player who is out of contract this summer.
"What a season. The skills are there but it is the special mentality. When you have these players who play the game like a friendly game, they handle the pressure like, OK, let's have fun, you are becoming a good, good team. Otherwise, you cannot do it."
There had been a scare for City when Bruno Fernandes equalised from the penalty spot against the run of play, Jack Grealish having been penalised for handball in the box.
"I don't know how it is a penalty," said Grealish afterwards. "I am not even looking at the ball. Anyway, Gundo saved me…"
That winning goal, with his left foot, underlined Gundogan's reputation as a clutch player – his sixth goal in six games at this decisive stage of the season. But it was his first that was a record-breaker – the fastest in an FA Cup final.
"We know how we play and how we want to do the kick-off,," Gundogan explained. "We aimed for that, for Erling and then to attack quick. For the first time this season, we've scored. The ball was placed amazingly for me and I had to hit it. Amazing."
Gundogan future undecided
Speaking to the BBC about his future, Gundogan added: "To be honest, I don't need these days to feel appreciated and special in this club. That's why I've been here seven years, with the up and downs we've had so far. Nothing is decided yet."
Speaking about Gundogan in the press conference, Guardiola reiterated his desire to keep hold of the midfielder.
"He knows what I think. There is no doubt. Maybe some of you don't know it. We are neighbours neighbours. Not United 'neighbours'. We live in the same floor for many years, he is a close friend of mine and as a player he is exceptional.
"Hopefully, we can finish in a good way. Txiki [Begiristain, City's director of football] is working and hopefully we can do it because the season he has done is just exceptional. I do not forget the two goals he scored against Aston Villa [to win the title on the final day of the 2021/22 season].
"This season, many, many times scoring important goals. I do not forget how important he is."
The Germany international was the undoubted player of the match thanks to his goals but the performance of John Stones also drew praise from Guardiola.
"Incredible," he added. "Incredible how he is playing lately. He gave us the opportunity to play in this certain way. Without him, it would be more difficult."
Fernandes: City deserved to win
The mood in the Manchester United camp was understandably rather different, their hopes of a second domestic trophy of the season dashed.
Erik ten Hag can still count his first campaign as a qualified success given the club's Carabao Cup triumph and with their third-placed finish in the Premier League ensuring Champions League qualification for next season. But Fernandes was only frustrated afterwards.
"Everyone is down," said the captain. "It is really difficult. We wanted to end the season in a different way. It was not possible. Obviously, it is not a successful season overall but it is a good season.
"We need to understand there is a long way to go to win bigger trophies.
"We started the game in a really bad way but we came back to the game. In the second half, again we concede an early goal. We still had some chances where we could have scored but we didn't. In the end, City are a deserved winner."​​​​​​
Ten Hag refuses to criticise De Gea
Gundogan's winning goal was not cleanly struck but still managed to creep beyond David de Gea. Ten Hag refused to criticise his goalkeeper, despite him getting a hand to the ball.
"I don't want to talk about criticism," said the United boss. "We have had a fantastic season, including De Gea.
"If you consider before today both City and us had 42 wins so they now have one win more. So the difference was made today. We have played a fantastic season – better than we expected. We have qualified for the Champions League, won a trophy and got to another final.
"I am really happy with the performance."
On watching City lift the trophy, the Dutchman added: "It is a motivation. You have to feel it in your stomach. It has to be fuel. We want to be there and we deserved it but you have to grab it. That is the next step.
"It is now about finalising the season. Be quiet. Analyse and set the right conclusions. And then take action."
The Premier League season will kick-off on August 12 and conclude nine months later on May 19, 2024.
The start is one week later than the 2022/23 launch as the schedule returns to normal following the Covid-19 pandemic and the Qatar 2022 World Cup, which provided disruption during the previous three seasons.
However, the fixture list provides for a return of the mid-season player break which will take place between January 13-20.
Fixtures for the new Premier League season will be revealed at 9am on Thursday June 15 and you can follow the announcements on Sky Sports News and across Sky Sports' digital platforms.