Scotland manager Steve Clarke confirmed his continued interest in capping Elliot Anderson and refused to rule out a move for Harvey Barnes after Tuesday's friendly against England.
Whitley Bay-born Anderson has played for Scotland at youth level but is still eligible to play for England.
The 20-year-old spent two days with Scotland last week before withdrawing from the squad and England manager Gareth Southgate has since expressed admiration for the Newcastle midfielder and stated his backroom team would be taking the situation up.
Southgate said: "We liked him and we do like him. We think he's a player that's doing really well.
"Obviously, he was called into their [Scotland] squad earlier in the week and I don't know what the position is at the moment. I saw he's pulled out.
"Let's see, that's something that [FA technical director] John (McDermott) and others at our organisation will be picking up. He's definitely a player we like."
Speaking at his pre-match press conference ahead of Scotland's friendly against England, Clarke responded: "We like the player as well so Elliot will still have that choice to make.
"When I come out of this camp I will look at what we have done, what we have had, what's occurred over this camp, we will do a debrief on it and then we will shape what we do from there."
Barnes to switch allegiance to Scotland?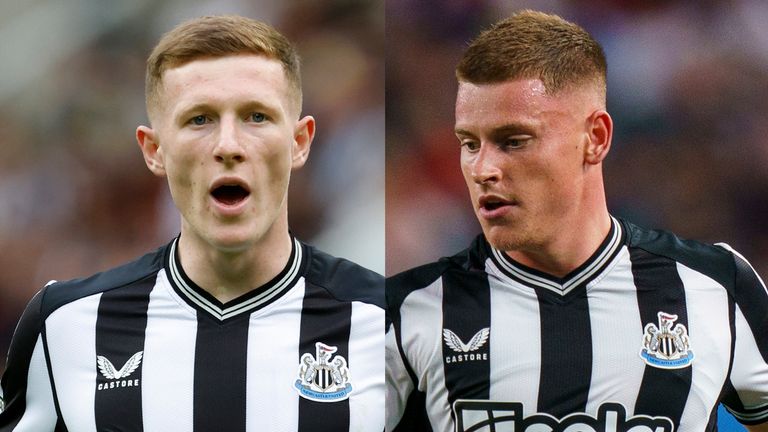 Anderson's Newcastle team-mate, Barnes, is reported to be considering a switch of allegiance after playing once for England in a friendly win over Wales three years ago.
When asked about Barnes, Clarke said: "Probably the same comment, to think about that after.
"We want the best players we can possibly get. If they are eligible for Scotland and they have a chance to play for us and they can improve the squad that I've got – which is not an easy thing to do…
"And I get all the story round it, because we are playing England you want to speak about Elliot, you want to speak about Harvey.
"I quite like speaking about the boys I have got because they have put us in a really good position and they deserve a lot of credit for that."
'Scotland don't need to be concerned'
Sky Sports News reporter Luke Shanley:
"If somebody doesn't want to play for Scotland then don't play for Scotland because this Scotland team is going places.
"If you don't want to be part of the ride then don't bother.
"That's fine because Scotland will be going to Germany and if somebody feels uncomfortable or doesn't want to play then you can totally understand. That is a personal decision.
"But Scotland are well stocked in that area, and I don't think Steve Clarke will be too concerned because you have Scott McTominay, who is doing so well for Scotland. He's scoring goals galore, and we know his importance in this campaign.
"He was a man not born in Scotland but is certainly very Scottish. He wants to be here, wants to be part of the team and he's not even playing that much for Man Utd, but pull on a Scotland shirt and you know all about it. He's the man in form for Scotland.
"Clarke will be relatively relaxed. If someone doesn't want to play, then don't play. Scotland do not need to get overly concerned. If Gareth Southgate selects him then good for him and on you go."
Southgate plays down Ferguson links
Meanwhile, Southgate played down talk Republic of Ireland striker Evan Ferguson is also still on England's radar.
"I think he's played too many games at senior level," Southgate said of the Brighton striker, who was born in Bettystown but has an English mother.
"He's got eight caps now. I'm not exactly sure on whether he definitely can't, but I think he's made it very clear he feels he was born in Ireland and he's represented them and I would 100 per cent back that. He's a bloody good player. We have to respect him, I don't think he's given any inkling that would be any different.
"At the same time, we were looking at Yorkshire-born Erling Haaland and wishing that he might have been available as well. But we've got a pretty good number nine [Harry Kane] and we're very happy with him."