Sean Dyche hit out at Everton's lack of consistency and told Sky Sports his side were "miles off it" after their 4-0 thrashing at Aston Villa.
The result was the worst of Dyche's 20-game spell at Goodison Park, with the Toffees now bottom of the Premier League for the first time in 13 years after losing both of their opening two games without scoring a goal.
Everton were unlucky in their opening-day defeat to Fulham last weekend but after matching their hosts at Villa Park on Sunday they capitulated after John McGinn's 18th-minute opener and never recovered.
Dyche told Sky Sports: "The learning I've had from the last couple of seasons is that we can be good one week, miles off it the next week. We've got to find consistency. We find it through the training ground but we've got to put it into performances. There's no excuses today, they were miles better than us.
"We were miles off it. They were better in all departments – the sharpness, the edge that's important in a performance, particularly them scoring goals, driving into the box, looking a lot more alive than we were defensively.
"It's a strange one because we were really on it last weekend. We've got to find consistency – I used that word constantly last season, week-to-week and in our performance. That was badly lacking today.
"You can have a collective down day, and that was today. Mistakes as well don't help, of course, but it's for everyone to correct that. You can't wait for someone else to correct it and I've just spoken to the players about that – everyone's got to make a difference."
Defender James Tarkowski, who watched his team-mates' individual mistakes hand Villa their third and fourth goals, went further than his manager and labelled their defending "awful", criticising the Toffees' body language and mentality after their early setback.
He said: "We started well for about seven minutes and then capitulated. I saw poor body language. I don't think it's lack of effort as such, it's not like no one runs around, maybe just poor discipline in our shape and we've got opened up. Every goal for me is awful.
"Once they scored a goal they got their tails up and we just completely put our heads down and didn't even get near them after that. Disappointing but the positives are these last week got battered 5-1 and then turned up and put a 4-0 win in so there's no reason why we can't do that next week."
Asked about whether their mentality played a part in the defeat, he replied: "Yeah, for sure. It wasn't a lack of effort, people were working hard and running around, we just weren't using our heads right and we got opened way too many times."
Everton waiting on Calvert-Lewin news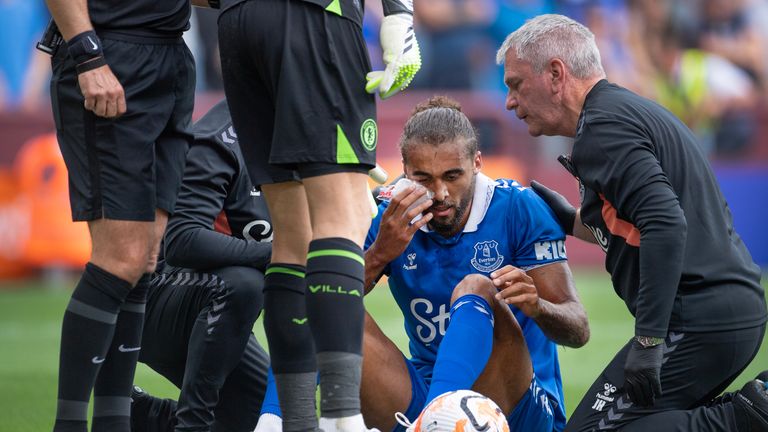 Dominic Calvert-Lewin was forced off with yet another injury in what looks like being the latest in a long line of absences for the England forward over the last two and a half years.
The striker collided with Villa goalkeeper Emiliano Martinez early on at Villa Park and despite receiving treatment and continuing at first, was substituted after further assessment 10 minutes before half-time with his right cheek visibly swollen.
Dyche said: "He's got a knock on his cheekbone so we're waiting for that. He had a bit of blurred vision so in the end we had to make a call on it and obviously he's only just getting back. A tough one to take. Then Alex [Iwobi] going off as well.
"It's not all about one game but we don't want to revert back to some of the performances of the past which I felt that was a little bit today. We want to keep building for the future with this group and if we can add to that we will do so."