Venue:
OVO Arena, Wembley
Date:
Saturday, 10 June
Coverage:
Commentary on BBC Radio 5 Sports Extra; live text commentary and reaction on BBC Sport website & app from 19:00 BST
Most brothers fight, but Sunny and Charlie Edwards could end up taking sibling rivalry to a whole other level.
Undefeated Sunny defends his IBF world flyweight title against Andres Campos at Wembley's OVO Arena on Saturday.
But the 27-year-old has not ruled out facing Charlie, 30, in the future after being called out by his older brother.
"In this day, there's a saying that people will die for clout – I think sometimes people want attention when they haven't got it as much," Sunny told BBC Sport.
"I would fight anyone. I've spent my whole life fighting him in the ring and sparring him.
"Whether it actually happens. or a governing body allows two brothers to fight, and whether the two of us would ever want it, I don't know."
Sunny will make a sixth defence of his IBF title against Chilean Campos, who is undefeated in 15 pro fights.
He headlines a world-title triple header, with Ellie Scotney challenging for Cherneka Johnson's IBF super-bantamweight belt and Nina Hughes defending her WBA bantamweight title against Katie Healy.
From brotherly love to swinging gloves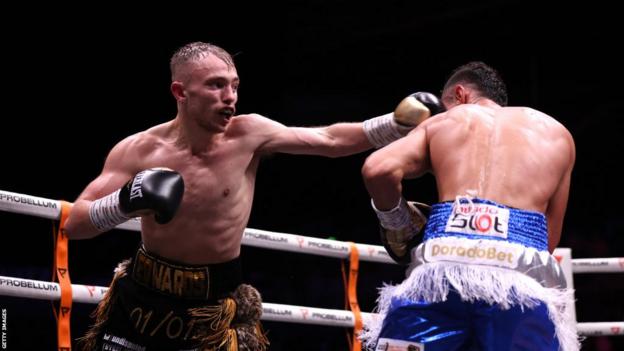 Sunny and Charlie were not on speaking terms long before the the family feud soon spilled into the public domain.
When Sunny signed with Matchroom Boxing earlier this year, Charlie – a former WBC flyweight world champion – did congratulate his brother.
But he then added: "When you're ready to get the real big fight on, get on the phone Eddie [Hearn, Matchroom promoter], give me a call."
Charlie vacated his world title in 2019, citing issues with making the 112lb weight.
He has since jumped up two divisions to bantamweight and, having not fought in 18 months, made a low-key return to the ring in an untelevised small hall show in Manchester, beating Peruvian Darwin Perez on points.
"I just hope he gets to a place where he doesn't feel the need to call out his little brother," Sunny said.
"There's 1,500 bantamweights in the world and I've not heard him call any of them – and he's calling out a flyweight."
Sunny has also offered to manage Charlie's career as he added: "I do love my brother. I think he's flawed, as are we all in this life. No human is made perfect.
"Right now though I think a lot of fighters could learn of the story of Charlie Edwards. You can't get comfortable thinking you've got there and going to stay there. Rent is due all the time. You can't go 18 months off."
'It's gone a little bit nasty' – Hearn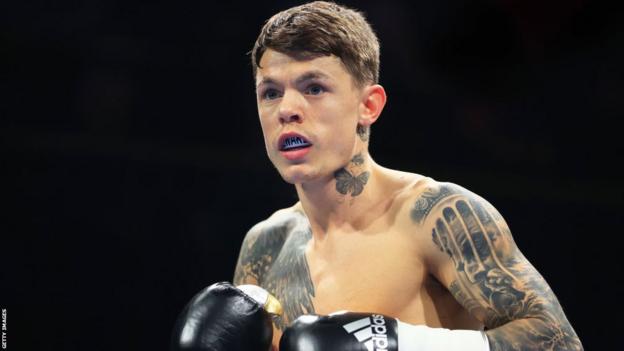 Following Juan Manuel and Rafael Marquez, Wladimir and Vitali Klitschko, Michael and Leon Spinks, the sport boasts a rich history of brothers who boxed at the highest level.
While the Klitschkos kept a promise to their mother never to fight each other, Sunny and Charlie's father Larry Edwards has always wanted his sons to go head to head.
Some fans, though, feel it would discredit the sport and its values. They say it is a reflection of the modern era and liken it to the world of YouTuber boxing where entertainment and attracting high viewing figures often trumps what may be the best outcome for the sport.
Hearn is in two minds on whether he would promote Edwards v Edwards.
"I don't like it, I never think families should argue, let alone fight. It's never been done before, as I understand it, at that level," he told BBC Sport.
"My first reaction would be, "guys, can you come into the office and try to sort this out", but it seems it's gone a little bit nasty."
After a short pause, Hearn did accept a fight between the pair "would do unbelievable numbers".
He added: "You're seeing all these YouTubers and people who can't fight, so to see brothers challenge each other for a world title, one a former champion, I have to be honest, I haven't really liked this all along, but when I just said that I actually found it quite intriguing."
'Elite' Sunny looks to impress on new platform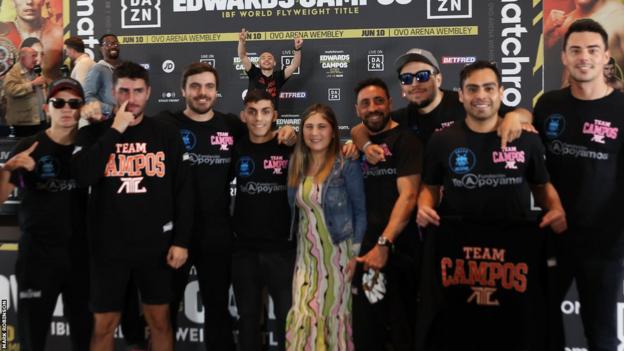 There are two sides to Sunny. The witty, jovial character who seems to enjoy engaging in Twitter back and forth with fans, or the fighter who once invited a troll to the gym to settle their differences in a ring.
At Wednesday's face-to-face promotion, an aggrieved Sunny knocked Campos' hat off his head.
"Sunny Edwards will do what he wants to do. Liked, hated, he doesn't care – but this kid can fight," Hearn said.
"A lot of people talk the talk and are controversial, but they're not elite. This is someone who backs it up. Just let him be Sunny Edwards."
Croydon fighter Sunny – previously signed to the now-defunct promotional outfit Probellum – will be boxing under the Matchroom banner for the first time and says there is "an air of new life blown into my career".
He is no longer associated with Daniel Kinahan and promotional and management company MTK Global.
Irishman Kinahan was sanctioned by US authorities last year, accused of being a key figure of a global organised crime group.
Sunny said: "I'm now on a new platform, new broadcaster, maybe new eyes – I'm trying to really impress as well as just win."