Casemiro has had a "really poor start" to the season for Manchester United and Erik ten Hag needs to rethink his midfield, says Jamie Carragher.
Speaking on Monday Night Football, Carragher highlighted the number of times that an exposed Casemiro has been dribbled past this season and argued that the United midfield will need to change if the team is to have the season that they want.
"I think they have big problems in midfield. The set-up of their midfield is not right for me. I think there are a few things wrong," said Carragher. "The manager's set up, what he is asking them to do in terms of the profile of players, is not right."
United were fortunate to escape with three points in their 1-0 win over Wolves on the opening Monday Night Football of the season but were punished at the weekend as they were beaten 2-0 away to Tottenham.
"Mason Mount, this time, played a little deeper than he did on Monday night, trying to maybe help Casemiro in some ways. But the reason I am saying I do not like the set-up from the manager is that he plays a man-marking system."
Showing a clip of Mount dragged out to the left, Bruno Fernandes high up the field on the right, and Casemiro isolated, Carragher said: "You now see how disconnected the Manchester United midfield becomes because they go man to man."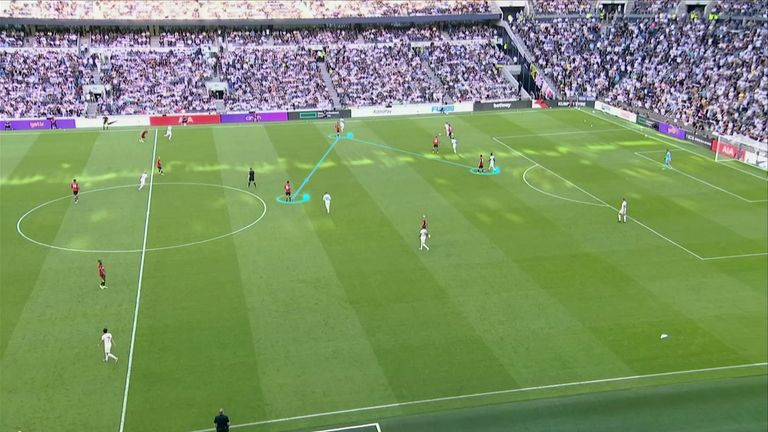 That is proving a particular problem for a laboured Casemiro.
"This guy in midfield, as we saw last Monday night and as we saw constantly on Saturday night, is being left exposed in the middle of the pitch on his own and he cannot cope.
"James Maddison runs off the back of him, gets away from him and is right at Manchester United's back four."
Further examples in which Casemiro made seemingly half-hearted attempts to put in the tackle, underlined Carragher's point.
"We can talk about the set-up and the system but this one is all about Casemiro. He makes a decision to go when he should hold his position. He goes flying in and is bypassed so easily.
"Maddison is a technically good player but he is not quick and that is far too easy. Again, right through the heart of Manchester United's midfield.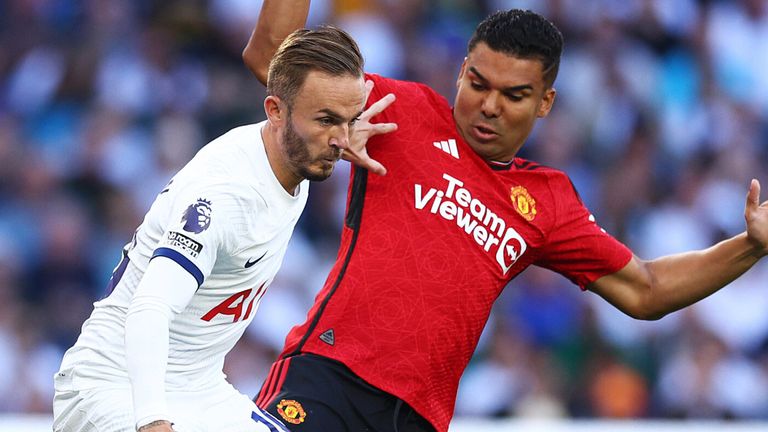 "We talk about him being left exposed but that is not acceptable at any level – and certainly a player of his quality and experience.
"It just does not look great when you have a player diving in. He is falling over.
"He has made a really poor start. I would be really worried about him going forward and the make-up of this Manchester United midfield."
Casemiro has been dribbled past six times already this season, a record that compares unfavourably with peers such as Rodri (one) and his Tottenham counterpart Yves Bissouma (two).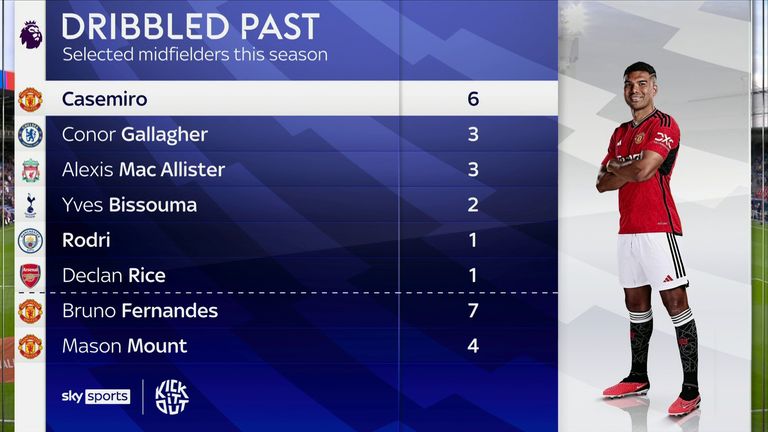 That Mount (seven) and Fernandes (four) are also seeing runners go past them suggests United have a problem.
"Look at the numbers for Bruno Fernandes and Mason Mount and how easy it has been for Wolves and Tottenham to go right through the centre of Manchester United's midfield," added Carragher.
"I am not sure that midfield can play together going forward for Manchester United to have the season that they want."
See Gary Neville's response to Jamie Carragher's claims about Manchester United's midfield at the end of Crystal Palace vs Arsenal, live on Sky Sports' Monday Night Football right now.
Stream Premier League action on Sky Sports with NOW for just £26 a month for 12 months. Cancel anytime.