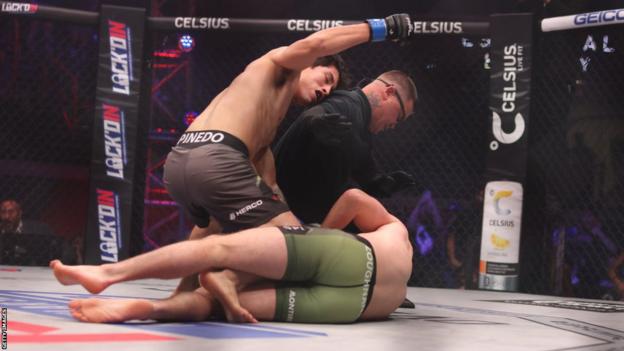 Britain's Brendan Loughnane will not be defending his PFL featherweight title in the play-offs this year after a shock defeat by Jesus Pinedo in Atlanta, Georgia.
The 33-year-old was dropped by a knee by Peru's Pinedo, 26, for the first stoppage defeat of his 32-fight career.
Loughnane was the champion after winning the 2022 season finale in November.
"Congrats champ. Took your opportunity and got me good," said Loughnane.
"In 44 fights (amateur and professional) that's the first time I've been stopped. Warrior."
The PFL's seasonal format differs from rival MMA promotions UFC and Bellator.
Fighters in each weight class compete in leagues, with the top four advancing to the semi-finals.
Manchester's Loughnane won the first fight of the season, beating Marlon Moraes in April, but defeat by Pinedo means the Peruvian qualifies for the play-offs at his expense.
Loughnane had said pre-fight he wanted to become a two-time PFL champion, making the championship "the most respected belt in combat sports".
But his hopes of defending his crown were over inside four minutes as Pinedo landed a knee from the clinch which dropped Loughnane, before following up with punches as the referee stepped in to end the contest.
Pinedo, who was a big underdog going into the bout after losing the first fight of his season against Gabriel Alves Braga in April, was overcome with emotion as he dropped to the canvas with his hands on his head in celebration.
He will next face last year's beaten finalist Bubba Jenkins, while Braga and Movlid Khaybulaev make up the other semi-final.