Great Britain's Josh Kerr wins gold in men's 1500m at World Athletics Championships in Budapest; 25-year-old shocks hot favourite Jakob Ingebrigtsen of Norway to win in 3:29.38; Kerr's second global medal after claiming bronze in 2020 Tokyo Olympics
Last Updated: 23/08/23 10:46pm
Great Britain's Joshua Kerr stunned hot favourite Jakob Ingebrigtsen to take 1500m gold at the World Athletics Championships in Budapest.
The Scot clocked 3:29.38 to win a massive battle with silver medallist Ingebrigtsen over the final 300m as Ingebrigtsen's fellow Norwegian Narve Gilje Nordas took bronze in 3:29.68.
Kerr's victory, achieved via his season's best, saw Britain scoop men's 1500m gold for the second World Championships running, after Jake Wightman triumphed in Eugene, Oregon last year by finishing ahead of Ingebrigtsen in similar style.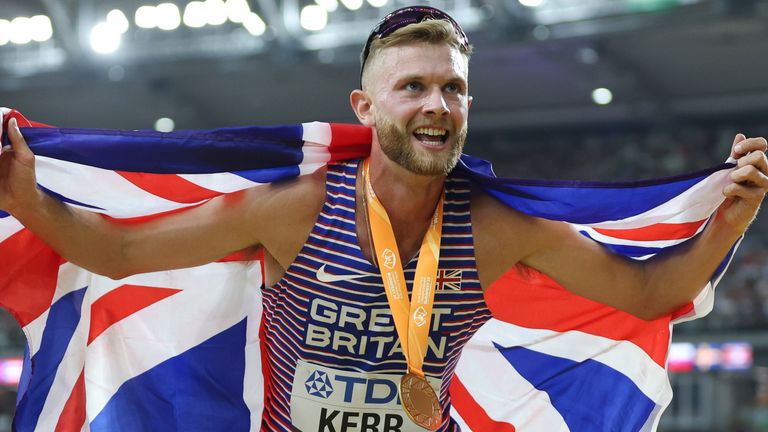 The medal is Kerr's second on the global stage after he won bronze in the 1500m at the 2020 Tokyo Olympics – a race won by Ingebrigtsen.
Kerr's medal is Britain's fourth of the Budapest event, with Katarina Johnson-Thompson securing heptathlon gold; Lewis Davey, Laviai Nelson, Rio Mitcham and Yemi Mary John claiming silver in the mixed 4x400m relay; and Zharnel Hughes sprinting to bronze in the men's 100m.
Kerr: I broke Ingebrigtsen with 50m to go
The 25-year-old told the BBC: "It's been a long time coming. It's an overwhelming experience, but I'm so proud of myself, of my team and my family.
"I threw my whole 16 years at that last 200m. I stayed calm, I just wanted to execute a race I would be proud of. I'm very glad to add to that medal count.
"I was battling with Jakob very hard, you can see by my face I'm throwing everything at this guy, I was hurting. I've wanted this my whole life. I'm so happy.
"At about 50m to go I kind of broke him, and it was holding on from that point. I've had the [Olympic] bronze [at Tokyo 2020] and the gold is much sweeter."
Wightman: Kerr is like the Terminator
Wightman added: "Our little club in Edinburgh has had two back-to-back world champions. That's hard to believe. Jakob Ingebrigtsen is going to start hating us Brits ain't he?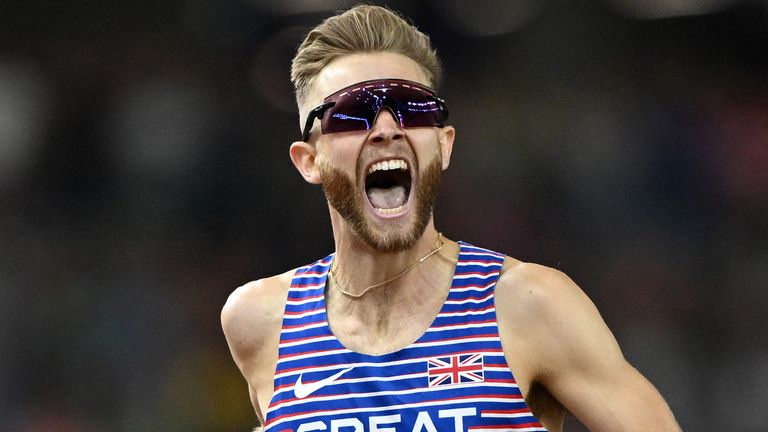 "He showed so much promise for so long, that medal in Tokyo was just the start of this.
"When Josh Kerr gets it right and when he's running well, he absolutely flies. I think Ingebrigtsen underestimated how well he was running at the moment.
"I'm so happy for him. Josh is like the Terminator. His internal confidence is crazy."
Moon, Kennedy share women's pole vault gold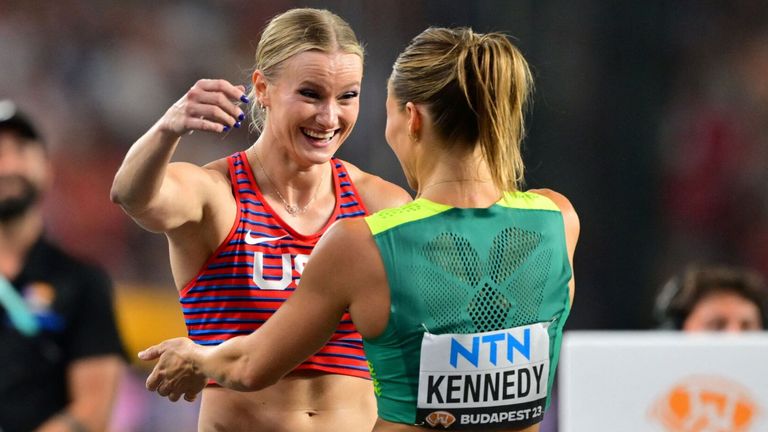 American Katie Moon and Australia's Nina Kennedy decided to share the gold medal in a dramatic women's pole vault final.
The competitors cleared 4.90 in an event that stretched two hours and 10 minutes, but both missed on all three attempts at 4.95 and decided to share the victory rather than go to a jump-off.
It was the second consecutive world title for Moon, who also won Olympic gold in Tokyo.
Wilma Murto of Finland took bronze with Britain's Molly Caudery fifth after setting a new personal best of 4.75m.