Rotation, rotation, rotation. It sounds like a broken record, but England's approach to looking after their fast-bowling unit during the Bazball era of the past year has been a well-repeated mantra.
But with arguably one of the most eagerly anticipated Ashes series in recent history on the horizon, the time has come for England to get their Roll Royces out of the garage and playing as much as possible.
More than 1,000 wickets in Tests played together and a combined eight Ashes series wins surely makes the case for their ever-present inclusions irresistible, while only three other bowlers in the history of Ashes Test cricket have taken more wickets than Broad.
But there are many more reasons why England must maximise the skills and guile at their disposal to reclaim the famous urn for first time in eight years.
The build up for one of the pair has involved recovery from a minor injury while the other has been getting in the groove in readiness to renew old battles.
Since Brendon McCullum took charge as men's Test coach, Anderson and Broad have missed three Tests apiece of the 13 England have played.
Broad's only rest came while he was on paternity leave during England's series clean sweep in Pakistan in the winter while Anderson has been rested in "dead rubbers" against New Zealand at home, Pakistan away and as a precaution from this month's four-day Test against Ireland to allow a groin strain more time to heal.
Both bowlers will celebrate birthdays during the coming series, Anderson turning 41 during the fifth and final Test at The Oval with Broad's 37th birthday coming between the first and second.
But as the adage goes, age should be nothing more than a number if England want to give themselves the best proven chance of beating the old enemy.
It's time to build the rest of England's attack around Broad and Anderson, especially if overs from captain Ben Stokes will be in short supply.
'You have to have ticker and bottle'
"You've got to pick your best team from the start, get a win on a board," Michael Atherton, ex-England captain and Sky Sports commentator said.
"You've got to get out of the traps quick in a series that only lasts six to seven weeks. If you lose the first two Tests, you're done for.
"There's no chance for touring teams now to halt that momentum if you get on a roll, so pick your best team right from the start."
Attempts to rest and rotate the pair during past Ashes series have failed. At the start of a series Broad himself claims was "void", England succumbed to a nine-wicket defeat inside four days in Brisbane in 2021.
Both would only play three of the five Tests during a 4-0 series defeat and gambling on saving them for the day-night game in Adelaide did little to reverse the tourists' poor fortunes with both bat and ball.
"Anderson and Broad are England's most significant seam bowlers," Sky Sports pundit and former England captain Nasser Hussain said.
"They've got the history behind them; they've got that battle experience. You have to factor that into Ashes series.
"You're in a cauldron, you're playing against Australia, you have to have a bit of ticker and bottle about you.
"It's one thing doing it against certain nations, it's completely different against Australia, they will come hard at you."
Pre-Bazball, "resting" either Anderson or Broad came with its fair share of fallout. Anderson first found himself part of the rotation way back in 2012, when he was left out of a Test against West Indies at Edgbaston for Graham Onions to take his place. A move that was met with widespread criticism from the media for a game ultimately severely interrupted by the weather.
"It'll be a surprise if I played all five (Tests)," Anderson told Sky Sports earlier this season. "You've got to have a strong bowling unit in an Ashes series, you can't just rely on three or four bowlers, you need six or seven who could stand up and take part at any time."
But those words came before injuries to Jofra Archer and Olly Stone, as well as slight concerns over the fitness of Ollie Robinson and captain Stokes came to light.
While seamer Josh Tongue has arrived on the scene and bowled his way into that unit, there is simply no "big game" experience to match Anderson's haul of 685 Test wickets.
'I was frustrated, angry, gutted'
For Broad, his omission from England's opening Test of the behind-closed-doors summer of 2020 against West Indies at the Ageas Bowl not only resulted in a defeat, but a no-holds-barred mid-match interview from the Nottinghamshire seamer who revealed he was "frustrated, angry and gutted" to be left on the sidelines.
Communication between coaches and players seems to be better now in the McCullum-Stokes environment, but Broad clearly retains the desire to play whenever fitness and family circumstances allow, as his lively opening spell against Ireland at Lord's proved earlier this month.
The Ashes – Live
Friday 16th June 9:30am
Anderson meanwhile knows what loads his body can handle as a 40-year-old Test cricketer, but he will no doubt be determined to make up for previous missed opportunities when injuries curtailed his series in both 2015 and 2019.
A side strain midway through England's third Test win at Edgbaston in 2015 meant he had to watch from the stands as the Ashes were reclaimed inside seven sessions at Trent Bridge the following week. Four years later, Anderson could only manage four overs on the opening morning of the series before a calf injury ruled him out of the remainder.
Broad too has also had his share of Ashes injury heartache. In the 2010-11 series, he tore a stomach muscle during the second Test win in Adelaide and would fly home before England went on to complete their landmark 3-1 win, their first series victory down under in 25 years.
But the added carrot being dangled in front of both players will be the chance to reach more personal milestones.
They surpassed Glenn McGrath and Shane Warne as the most prolific Test partnership with more than 1,000 between them, but Broad is now just 18 shy of taking 600 Test wickets, while 40-year-old Anderson needs 15 more for 700.
It is not beyond the realms of possibility that both could be reached before the end of July.
Broad must be hoping Australia retain faith in David Warner at the top of their batting order after the seamer dismissed the left-hander seven times during the 2019 series.
"He's someone who caused me quite a lot of pain early on in both of our careers," Broad told Sky Sports News.
"I was a tall bowler who bowled back of a length and tried to bring the outside edge into play and his strength was hitting into the offside off back of a length.
"So I had to redesign my style of bowling to be aimed at him and that's the biggest compliment I can give him, really.
"He's someone I've loved having great battles with, we're both in the twilight of our careers and we'll both be buzzing for another battle this summer."
Right-armer Broad has also worked on an out-swinger he feels can challenge the outside edge of key right-handers Steve Smith and Marnus Labuschagne and brought him some joy against Ireland at Lord's.
"It's very much a case of picking out the batter I'm bowling against," he said after his first-innings figures of 5-51.
"The art of bowling is very much about picking up the weaknesses while you're out there (in the middle). It's about bowling four or five deliveries in a row at someone and working out how you can get them out."
Whether or not the new delivery being specifically developed for Smith and Labuschagne proves to be more than just kidology, only time will tell.
Another reason why Broad must play in every Test is his ability to play the pantomime villain towards Australia and their cricket-loving nation.
"The moment there's a crowd, the moment there's an atmosphere, he's in a cauldron, it's a big game, Broad stands out," Nasser Hussain said.
Before the Nighthawk came the Phantom Menace
Arguably Broad's breakthrough moment in Test cricket came at the Oval in August 2009 when 5-37 on the second afternoon of the fifth Test played a big part in Australia being bowled out for just 160 in their first innings, setting up an eventual 197-run England victory and 2-1 series win.
He would continue to be the nemesis of the Baggy Greens four years later, starting in controversial fashion during the first Test at Trent Bridge. With the game in the balance, he stood his ground after clearly edging a catch to the hands of Michael Clarke at slip via a deflection off wicketkeeper Brad Haddin's gloves. Ashton Agar the unfortunate bowler to be denied a key wicket.
Broad resumed the following morning to help build England's lead before they edged to victory by just 14 runs. He would later go on to secure his side a 3-0 series win with figures of 6-50 on the final evening at Chester-le-Street, but the fallout from not walking at Trent Bridge would follow him to Brisbane for the start of the return series several months later.
The Courier Mail Newspaper refused to print his name or picture in both the build-up and during the first Test. Even after a masterful first-innings display where he claimed 6-81, he was referred to as the "Phantom Menace" or "the 27-year-old English medium pacer" ("27YEMP" for short).
Broad took the incident in seemingly good humour, arriving for a post-play press conference midway through the Test with a copy of the newspaper folded up under his arm.
But Australia would go on to have the last laugh that winter as England were whitewashed 5-0 and for some players, their Test careers would never resume. Broad, though, would soon be back to giving Australian cricket fans nightmares as they watched on bleary-eyed in the small hours.
It culminated in perfect fashion for the Nottinghamshire bowler during one unforgettable morning on his home ground of Trent Bridge in August 2015.
Inside 9.3 overs, Broad took career-best figures of 8-15 as Australia were bowled out for just 60 a little under 90 minutes into the fourth Test. There was no looking back for England and before lunch on the third day, they had reclaimed the urn.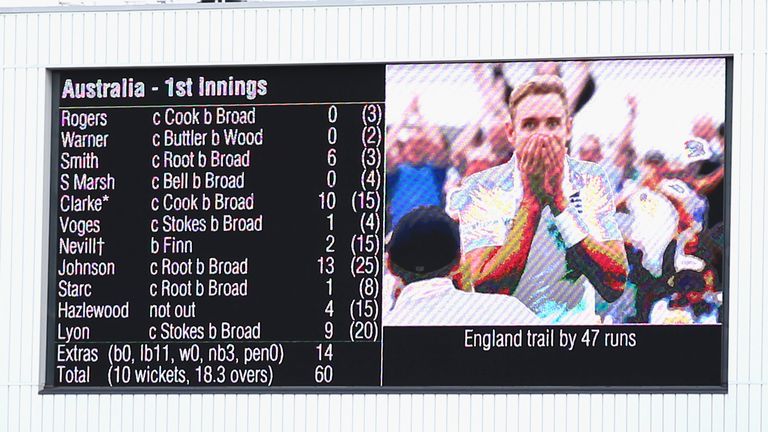 While Broad may not have been able to bowl England to Ashes series victories in the three that have followed, he still retains the aura of respect among those wearing the Baggy Green as his 23 wickets in 2019 proved.
For Anderson, this series presents the opportunity to add another chapter to a stellar Test career which began 20 years ago.
His record against Australia, like Broad, has seen him be part of four winning Ashes series. While he may lack as many of the standout, match-winning moments in series gone by of his new-ball partner, his consistency of performance cannot be ignored.
He has taken 112 wickets in 35 Ashes Tests with his two most prolific series coming in 2010-11 and 2013. Many England fans will remember how he bowled his side to victories in Adelaide and Melbourne, while he took match figures of 10-158 at Trent Bridge.
With the bat, he was also part of a famous rearguard at Cardiff in 2009 to secure a nail-biting draw in the opening battle of that summer.
When fit, more often than not, he has been able to deliver for his country.
Five Tests in the space of six weeks will sound like a heavy workload, but Anderson may well know that this is his last chance to give anything and everything to add a fifth Ashes series win to his glittering CV, potentially bookending a career of many historic moments.
Watch The Ashes live on Sky Sports Cricket across June and July. The opening Test starts on Friday with build-up from 9.30am ahead of the first ball at 11am.