What do you get when you mix the best of Novak Djokovic, Roger Federer and Rafael Nadal? A Carlos Alcaraz, that's what. At least in the eyes of this year's beaten Wimbledon finalist.
An empty-handed Novak Djokovic left SW19 with an ominous parting message after being denied a record-tying eighth Wimbledon title, warning of the 'big three' cocktail that had just ignited a new era for men's tennis.
Alcaraz made history as the youngest men's champion at the All England Club since Boris Becker in 1985 on Sunday as he recovered from a set down to deny Djokovic a fifth consecutive Wimbledon crown in a five-set epic spanning four hours and 43 minutes.
It topped the Spaniard's US Open glory by shattering Djokovic's monopoly on grass, a surface on which Alcaraz's expertise had faced question marks only for him to emerge victorious at both Queen's and now Centre Court.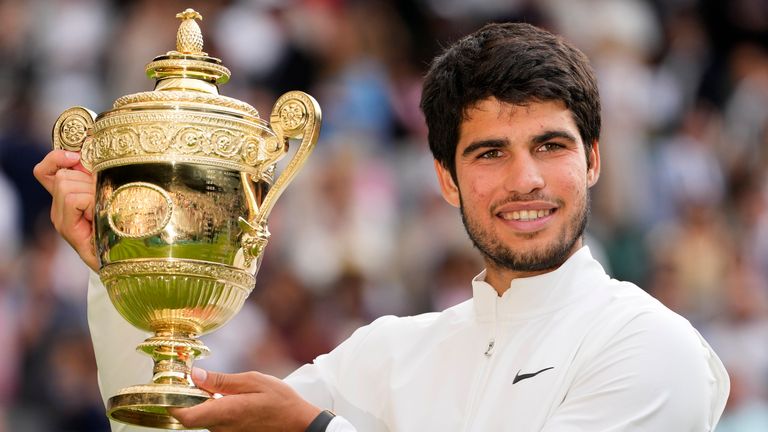 "I think people have been talking in the past 12 months or so about his game consisting of certain elements from Roger, Rafa, and myself. I would agree with that. I think he's got basically best of all three worlds," said Djokovic.
"He's got this mental resilience and real maturity for someone who is 20 years old. It's quite impressive. He's got this Spanish bull mentality of competitiveness and fighting spirit and incredible defence that we've seen with Rafa over the years.
"And I think he's got some nice sliding backhands that he's got some similarities with my backhands. Yeah, two-handed backhands, defence, being able to adapt. I think that has been my personal strength for many years. He has it, too.
"I haven't played a player like him ever, to be honest. Roger and Rafa have their own strengths and weaknesses. Carlos is a very complete player. Amazing adapting capabilities that I think are a key for longevity and for a successful career on all surfaces."
Alcaraz could only laugh when informed of Djokovic comparing him to the three players he grew up studying. His reminder of as much during his on-court interview had prompted a funny moment from Djokovic as the 36-year-old sported an 'I feel old' grimace.
The 20-year-old is the first player since 2002 not named Djokovic, Federer, Nadal or Andy Murray to lift the men's Wimbledon trophy.
"It's crazy that Novak say that, honestly," he said. "But I consider myself a really complete player. I think I have the shots, the strength physically, the strength mentally. I don't know.
"Probably he's right. But I don't want to think about it. I'm going to think that I'm full Carlos Alcaraz, let's say, but probably I have some great ability from every player."
This was your changing of the guard, your passing of the torch. Only Djokovic did not pass it; it was snatched from him by the marvel from Murcia.
Sunday was the clearest signifier and dose of validation yet that the men's circuit has discovered its face of the future.
"Well, I did it for myself, not for tennis generation, honestly," admitted Alcaraz. "It was great. Beating Novak at his best, in this stage, making history, being the guy to beat him after 10 years unbeaten on that court, is amazing for me.
"It's something that I will never forget, that's for sure. As I said, it's great for the new generation, as well, I think to see me beating him and making them think that they are capable to do it, as well. It's great for me and I think for the young players, as well."
The Grand Slam finals will follow in their numbers, but for now a marathon triumph over an imperious Djokovic will take some beating.
"Right now, yeah, is the happiest moment of my life, that's for sure," added Alcaraz. "Probably in five years will change (smiling).
"Right now, I'm 20, I didn't live too many situations like this, so I'm going to enjoy this moment. Making history that I did today, it's, yeah, the happiest moment of my life. I think it's not going to change for a long time.
"Yeah, like beating Novak, winning Wimbledon championship is something that I dream about since I started to play."
Djokovic, whose chances of a Calendar Slam came to an end, meanwhile has no intentions of accommodating a smooth transition into tennis' Alcaraz-led chapter as he eyes a fresh rivalry with the Spaniard.
"I would hope so [that it's the start of a rivalry], for my sake (smiling)," said the Serb. "He's going to be on the tour for quite some time. I don't know how long I'll be around. Yeah, I mean, let's see.
"It's been only three matches that we played against each other. Three really close matches. Two already this year in later stages of Grand Slams. Yeah, I hope we get to play in US Open. Why not?"