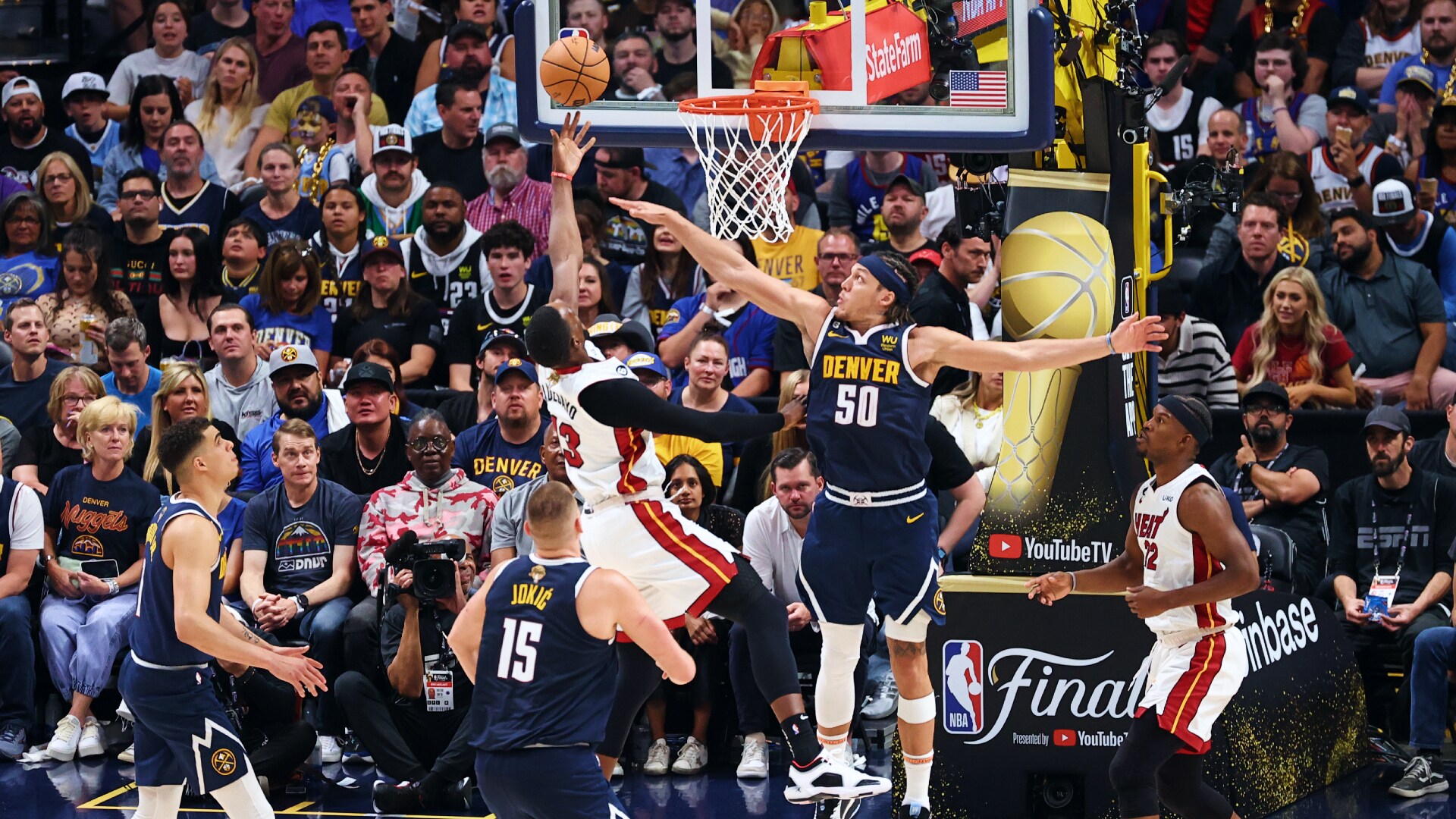 We have ourselves a series! After leading by 11 points in the first quarter and trailing by 15 in the second quarter, the Miami Heat rallied in the fourth quarter to defeat the Nuggets 111-108 and send the 2023 NBA Finals back to Miami tied at 1-1.
---
1 – The fourth quarter Heat strike again. Miami entered Game 2 with the best fourth-quarter point differential in the playoffs at plus-4.2 points per game, more than double the second-ranked duo of Denver and Los Angeles at plus-1.9 each.
In Game 1, the Heat won the fourth quarter 30-20 but their rally fell short as the Nuggets took a 1-0 lead. In Game 2, the Heat led the fourth quarter 32-12 with 3:39 to play before it was the Nuggets turn to put on a rally that fell short. Miami won the fourth quarter 36-25 and are now a plus-21 in the fourth for the series.
---
2 – Nikola Jokic finished with a game-high 41 points but was held to just four assists as Miami tried to force Jokic into being a scorer rather than a playmaker and it worked. The Nuggets are now 0-3 this postseason when Jokic scores 40 or more points.
Back-to-back tough buckets from The Joker 🃏🔥 pic.twitter.com/MlYt3fw04a

— NBA TV (@NBATV) June 5, 2023
What makes Jokic so dangerous is his ability to score points on his own and set up his teammates. In Game 1, he finished with game highs of 27 points scored and 31 points created by his 14 assists, for a total of 58 points created. In Game 2, Jokic dropped 41 points, but created only nine points with his four assists, so despite scoring 14 more points in Game 2, Jokic's total points created dropped by eight.
We do have to take a minute to appreciate this coast-to-coast from the big man though.
JOKIC GOES COAST-TO-COAST 😱 pic.twitter.com/HohTOcwsox

— ESPN (@espn) June 5, 2023
---
3 – The Nuggets suffer their first home loss of the postseason after going 9-0 in the playoffs prior to Game 2. The last Nuggets loss in Denver came on March 30 – that's 66 days without a loss in front of your home crowd. With the series tied, we're guaranteed at least one more game at Ball Arena (Game 5 on June 12).
As the No. 8 seed, the Heat have not had home-court advantage in any series this postseason and has had to find a way to win on the road. Sunday's win was their seventh victory away from South Beach during this postseason run.
The rocky road is over for the Heat in Denver 🔥 pic.twitter.com/uc0QnJbr2l

— SportsCenter (@SportsCenter) June 5, 2023
---
4 – While Nikola Jokic led all scorers with 41 points, the next highest-scoring Nugget was Jamal Murray with 18 points. Meanwhile, the Heat went strength-in-numbers style with three players scoring 20 or more in the win:
– Gabe Vincent: 23 points on 8-of-12 shooting, including 4-of-6 from 3-point range
– Jimmy Butler: 21 points on 7-of-19 shooting, plus 5-of-5 on free throws
– Bam Adebayo: 21 points on 8-of-14 shooting, plus 5-of-5 on free throws
---
5 – After struggling to make wide-open 3-pointers in Game 1, the Heat shot the lights out in Game 2 from beyond the arc, hitting 17-of-35 (48.6%). How good was that shooting performance? Here is the list of teams that have shot at least 48% from 3-point range on at least 35 attempts in a Finals game:
– Cleveland vs. Golden State (June 9, 2017): 24-45 (53.3%)
– Phoenix vs. Milwaukee (July 8, 2021): 20-40 (50%)
– Boston at Golden State (June 2, 2022): 21-41 (51.2%)
– Miami at Denver (June 4, 2023): 17-35 (48.6%)
---
6 – Through three quarters, Duncan Robinson was not only scoreless, he had not even attempted a shot. But when the fourth quarter began, Robinson flipped the switch and ignited a Miami run that erased Denver's eight-point lead heading into the final quarter, and helped the Heat take the lead for good.
8-0 Duncan Robinson run! 😤 pic.twitter.com/CB4F9ye99D

— NBA TV (@NBATV) June 5, 2023
The Duncan Robinson game

— Tate Frazier (@tatefrazier) June 5, 2023
Duncan Robinson to start the 4th quarter: pic.twitter.com/bS0Lv142Mj

— Bleacher Report (@BleacherReport) June 5, 2023
---
7 – The Nuggets had several defensive breakdowns in this game, with most of them costing them three points each. There were multiple instances when Denver defenders got mixed up on pick-and-rolls on the perimeter with both defenders staying on ball and a shooter flaring out for a wide-open triple. There were also multiple instances of fouling a 3-point shooter, including an egregious mistake, fouling just before the shot clock expired 30 feet from the basket.
---
8 – Gabe Vincent has been fantastic in the first two games of the Finals for the Heat. He's been Miami's most consistent offensive threat on the perimeter, averaging 21 points on 55.6% (15-of-27) shooting from the field and 56.3% (9-of-16) from 3-point range. Vincent posted a game-high plus-22 plus/minus in Game 2.
Gabe Vincent for three 🔥

He leads Miami with 18 PTS in Game 2… Q3 LIVE on ABC! pic.twitter.com/q9jakwnd3m

— NBA (@NBA) June 5, 2023
Gabe Vincent is HOOPING ♨️ pic.twitter.com/Mkcu5Xe5yc

— Bleacher Report (@BleacherReport) June 5, 2023
---
9 – Bam Adebayo finished one rebound shy of his second straight 20-10 game in the Finals. He finished Game 2 with 21 points, nine rebounds, four assists and two blocks. The Heat had been unbeaten in playoffs (6-0) when Bam scored 20+ before their Game 1 loss. With tonight's win they are now 7-1 in the playoffs when Bam hits 20 points; will this Game 2 win be the start of a new streak?
BAM ADEBAYO 🔥
MONSTER DUNK 😤

Miami has taken an 11-point lead, under 5 minutes to play on ABC! pic.twitter.com/iyGFUdLuCv

— NBA (@NBA) June 5, 2023
---
10 – Speaking of Bam, how clutch were his free throws in the final minute to keep the Heat lead at five points with 48 seconds left? The Nuggets had cut the lead to three on Jamal Murray's second 3-pointer in the final three minutes; Adebayo drew a foul on Kentavious Caldwell-Pope (fouling him out) and stepped to the line and put an end to Denver's 11-2 run with two clutch free throws to keep it a two-possession game in the final minute.
Drown out the noise.
Hit your free throws.
Seal the game. pic.twitter.com/7bTAeHoSvK

— Miami HEAT (@MiamiHEAT) June 5, 2023
---
11 – Speaking of free throws, the Heat followed up their NBA Playoffs record-low two attempts in Game 1 by being more aggressive and drawing contact on drives to the basket (and on jump shots, as mentioned above). Miami finished 18-of-20 (90%) from the free throw line as both teams shot high percentages from the stripe (Denver 19-22, 86.4%)
---
12 – Welcome to the NBA Finals to Max Strus' jump shot. After shooting 0-of-10 from the field and 0-of-9 from 3-point range in Game 1, the Heat wasted no time going to Strus in Game 2. On the second shot of the game, he splashed his first Finals 3-pointer just 32 seconds into Game 2.
Hot start from Strus 🔥

Miami leads early in Q1 on ABC as they look to even the series at 1-1!#NBAFinals presented by @YouTubeTV pic.twitter.com/DLHieb80Xn

— NBA (@NBA) June 5, 2023
Strus finished the first quarter with 12 points on 4-of-7 shooting, with all his shots coming from deep. He would score only two more points the rest of the way, but his hot start was big for the Heat.
Max Strus after his Game 1 performance pic.twitter.com/qZKHyM96zb

— Bleacher Report (@BleacherReport) June 5, 2023
---
13 – Jamal Murray entered the fourth quarter with 10 points on 4-of-9 shooting from the field and 1-of-4 from 3-point range. He did have six assists entering the final 12 minutes, but when Miami went on their run to take the lead, everyone knew the Nuggets would need Murray to deliver some buckets for Denver to have a shot at the win. Murray got hot late, scoring eight points on 3-of-6 shooting in the fourth, including the aforementioned 3-pointers in the final three minutes during Denver's 11-2 run. While he made two 3-pointers, he needed three as his final triple fell short to seal the win for Miami.
JAMAL MURRAY AGAIN 🔥

Bam goes 2/2 at the line to extend the lead back to 5, 40 seconds to go on ABC! pic.twitter.com/elaBk9kCPe

— NBA (@NBA) June 5, 2023
---
14 – It was a tale of two halves for the benches. Denver's bench (Bruce Brown, Jeff Green and Christian Braun) crushed Miami's bench in the first half, outscoring them 20-5 as the bench was key to Denver's first-half run.
Everybody on the Heat bench has a plus-minutes to minutes ratio greater than -2/1.

— John Schuhmann (@johnschuhmann) June 5, 2023
However, Miami returned the favor in the second half, outscoring Denver's bench 21-8 in the final 24 minutes, sparked by Robinson's 10 points in the fourth quarter alone.
---
15 – The first half featured a 26-point swing as the Nuggets went from down by 11 points in the first quarter to leading by 15 in the second. And the most surprising thing about that run is that most of it came with Nikola Jokic sitting on the bench.
Denver Nuggets with Jokic on the bench
last 2 seasons
via pbpstats

Before tonight … -625
Tonight ………………. +15

— Tom Haberstroh (@tomhaberstroh) June 5, 2023
Denver's bench was fantastic, and the Nuggets used their defense to create multiple transition scoring opportunities as live-ball turnovers were a nightmare for Miami. After Denver scored 23 points in the first quarter, they scored 21 in the first 4:11 of the 2nd quarter, all with Jokic on the bench.
---
16 – Kevin Love started for Caleb Martin, who was dealing with an illness but still played 21 minutes off the bench. Love finished with six points, including two 3-pointers, 10 rebounds, two steals, an assist and a drawn charge in 22 minutes.
Love steal ➡ Bam slam

Strong start for Miami in Game 2, 1Q on ABC! pic.twitter.com/m5UQZAe2J1

— NBA (@NBA) June 5, 2023
---
17 – Michael Porter Jr. had his second sub-par shooting game of these Finals. He finished Game 2 with just five points on 2-of-8 shooting, including 1-of-6 from 3-point range. For the series, he's now shooting 7-of-24 (29.2%) from the field and 3-of-17 (17.6%) from 3-point range. He also posted a team-low plus/minus of minus-15 in his 26 minutes on court.
---
18 – Jokic continues to make NBA Playoffs history, this time becoming the first center to post 500 or more points and 100 or more assists in a single postseason. It will be interesting to see where those numbers finish, especially if this turns into a long series.
Nikola Jokic continues to make history 👏 pic.twitter.com/n7Cl1GuK36

— NBA (@NBA) June 5, 2023
Nikola Jokic becomes the 3rd player in NBA postseason history with 500 points, 200 rebounds & 150 assists in a single playoff run.

The only other players who have done so are LeBron James (4 times: 2015-18 & 2020) & Larry Bird (1987). pic.twitter.com/WWmUAvNQ1o

— ESPN Stats & Info (@ESPNStatsInfo) June 5, 2023
---
19 – Miami's poise in second quarter was huge. The Nuggets were absolutely rolling, going on a 40-14 run to lead by 15 points, and the building was practically shaking with the fans erupting with every made shot and dunk.
JAMAL MURRAY 😤

The show-stopping fast break slam has this Denver crowd going WILD.

Game 2, Q2 LIVE on ABC 🍿 pic.twitter.com/Yd36CpiWE3

— NBA (@NBA) June 5, 2023
But Miami didn't panic; instead they responded with an 8-0 run and chipped away at the lead to make it a manageable six-point deficit at the half.
---
20 – Jokic may have only had four assists in this game, but this is one we'll be seeing on highlight reels for a while. He runs a pick-and-roll with Murray at the top of the key, gets the drop-off pass from Murray at the elbow, then whips a one-handed touch pass to a cutting Aaron Gordon for a reverse alley-oop layup.
Beautiful basketball pic.twitter.com/65mgMLsUEM

— Kevin O'Connor (@KevinOConnorNBA) June 5, 2023
It's the one-handed Jokic assist for us 😲👏 pic.twitter.com/GS0YnbVbSE

— Ball Don't Lie (@Balldontlie) June 5, 2023
---
21 – The reaction shots from this game will live on in meme form among NBA Twitter users. There was Jokic's expression after not getting an out of bounds call his way, Gabe Vincent's look when the Nuggets left him wide open for a 3-pointer, and we can't leave out the Duncan Robinson mean mug after his fourth-quarter heroics.
Jokic getting animated in Game 2 😳 pic.twitter.com/auf0NG3xZZ

— ESPN (@espn) June 5, 2023
— RingerNBA (@ringernba) June 5, 2023
Duncan Robinson came up clutch when it mattered most 👏 pic.twitter.com/kx6RqHLRQm

— SportsCenter (@SportsCenter) June 5, 2023
---
22 – If these playoffs have proved anything, it's that you don't count the Miami Heat out when they get down big. This was the seventh time during this playoff run that the Heat have rallied from a double-digit deficit to get the win. There are now a total of four teams to accomplish that in the past 25 seasons, and three of those teams are the Miami Heat.
The Heat aren't new to playoff comebacks 😳 pic.twitter.com/2s3WB0RR1p

— SportsCenter (@SportsCenter) June 5, 2023
---
23 – To call a timeout or not call a timeout when your team is down by a single possession in the closing seconds. Nuggets coach Michael Malone chose not to call one, Murray got into the two-man action with Jokic, but was pushed back beyond the 3-point line, he did get off a decent look at a game-tying step-back 3-pointer over Jimmy Butler, but it came up short off the front rim to seal the win for Miami.
Jamal Murray had a chance to tie the game at the end 👀 pic.twitter.com/EMbC8pRePi

— ESPN (@espn) June 5, 2023
---
24 – Heat Culture. This Miami team set an NBA record for the most wins ever by an eight-seed in a single season with No. 13. Of course, the number the Heat want is 16. Now both teams sit just three wins away from the title as the series shifts to Miami with Game 3 set to tip off on Wednesday.
Most wins by an 8-seed in a single postseason:

13 — Miami Heat (2023)
12 — New York Knicks (1999)
7 — Philadelphia 76ers (2012)
7 — Memphis Grizzlies (2011)
6 — Denver Nuggets (1994)#Heat | #NBAFinals pic.twitter.com/Crx1cyLqN8

— Basketball Reference (@bball_ref) June 5, 2023